I have some experience with Sculptey maquettes and a lot of illustration experience. Add that to everything I've seen on the Radicons page and I have a solid understanding of how I want this to go.
First I need a concept. In this instance I'm making an armor set for classics Optimus. So I start out with a to scale drawing with at least a couple of different views
Here:
After I know what you want, I need to measure and plan for everything, on a separate piece of paper, it's time to draw transparent and exploded views of everything. Do this especially if you are on a budget
[as it] prevents a lot of mistakes from happening.
And before I go further here are some tools I use:
Jeweler's saw- handy for cutting metal and styrene.
Retractable X-Acto cutter- very precise
Needle nose pliers-you'll see
Scissors-cut styrene super easy
Multiple files- what I use personally for sanding
Zap-a-gap superglue- my preferred brand
Insta-set- SAVES A LOT OF TIME
Small 6-inch metal ruler- must have cork on back.
Alright, [here is] the basis of my building technique: First I draw the shape I want, note the measurements, and draw it as many times as I think I need to build up thickness.
Now I SCORE everything, not cut. USE A RULER TO GUIDE YOU! Sorry I didn't use one here, [as it's] very difficult to take pictures with no hands. The cork backed rulers don't slide as much on styrene. And the metal doesn't get cut by the blade.
I then snap the pieces off that I scored. Yes, no cutting
I find cutting all the way through messes up my hands pretty bad. I clench. It all snaps off real easy like.
For really small pieces that need to snap off, I use the needle-nose pliers.
Here they are!
This next step is equally as important as sanding, it's called laminating. I glued the pieces together to make a thick piece and then coated the edges in glue… the coating of the edges is actually the laminating part. I'm layering, and laminating. The laminating fills in all the cracks there may be between the layers of styrene. After sanding there shouldn't be any seams or holes in the edges
Now to change the subject a little… I figured this out on my own. In the pic below you can see the leg guard on the left has huge gaps in it. On the right leg guard I filled in the gaps with Aves Epoxy fixit sculpt. Then I sanded it down. Rather than layering huge spaces like this I just filled them in
Still I decide when I should and shouldn't layer or fill.
Quote:
Originally Posted by
Quantum_Anomaly
We need to get the best bits of scratchbuilt hinges from you, lobo, and the rest and post them all in a sticky for reference.
Yeah, I just haven't quite gotten to the hinge parts; I'll definitely depict how I do them.
Quote:
Originally Posted by
frenzy_rumble
that's really cool. looks like a painful long process. Why not cut 1 of that shape, then use it as a template to trace and cut the rest? To thicken up a custom styrene part, I usually glue the shape on a larger piece of styrene, then when dry cut around and done.
Well, for me, it's all about streamlining the process. If I do each piece of styrene like that, I pick up and drop the pencil more, pick up and drop the X-Acto knife more, pick up and drop the glue more. So I try and use the pencil all at one stage, cut all in one stage, glue all in one stage, and sand in one stage.
I'm trying to save time. Although, sometimes I will trace an already cut piece, but results vary on those. I find ruling everything out is more consistent. Thanks for pointing this out, though; I meant to bring it up earlier
The gluing of an existing piece to a larger sheet is new to me, Imma try that out soon
* * * * *
Here is something I just tried; I wanted to make a mold of the bottom of Prime's feet. The bottom is made up of a series of crevices that would be perfect for the Ginrai armor to plug into. So I took this pic in case it was a bad idea to do
And a couple of hours later: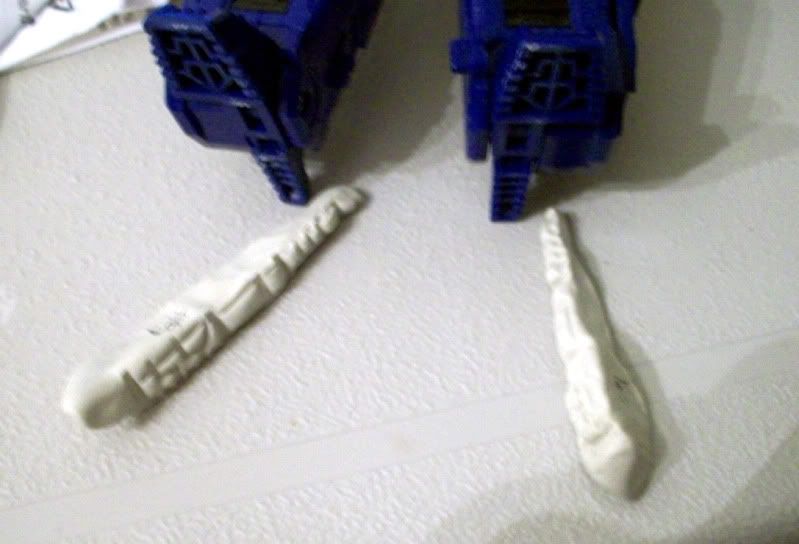 Luckily it worked, however I only gave this about 5 hours, meaning I didn't use 24 hours to cure the Aves Epoxy fixit sculpt. Any longer, and it MAY have fully bonded to prime.
I intend to sand these down and glue styrene all over them. Just thought I'd share.
This is the natural follow up to that mold technique I used... check out how I sanded the apoxy down enough to attach styrene panels to:
Here's an in progress shot:
Same progress shot, but I want you to notice the underlying structure, hollow and everything. At this scale you wont have to worry too much about strength, but keep it in mind:
Hollow arm piece... I didn't take a pic of it, but I attached a long tube to the forearm piece that goes through the hand piece and into prime's actual fist: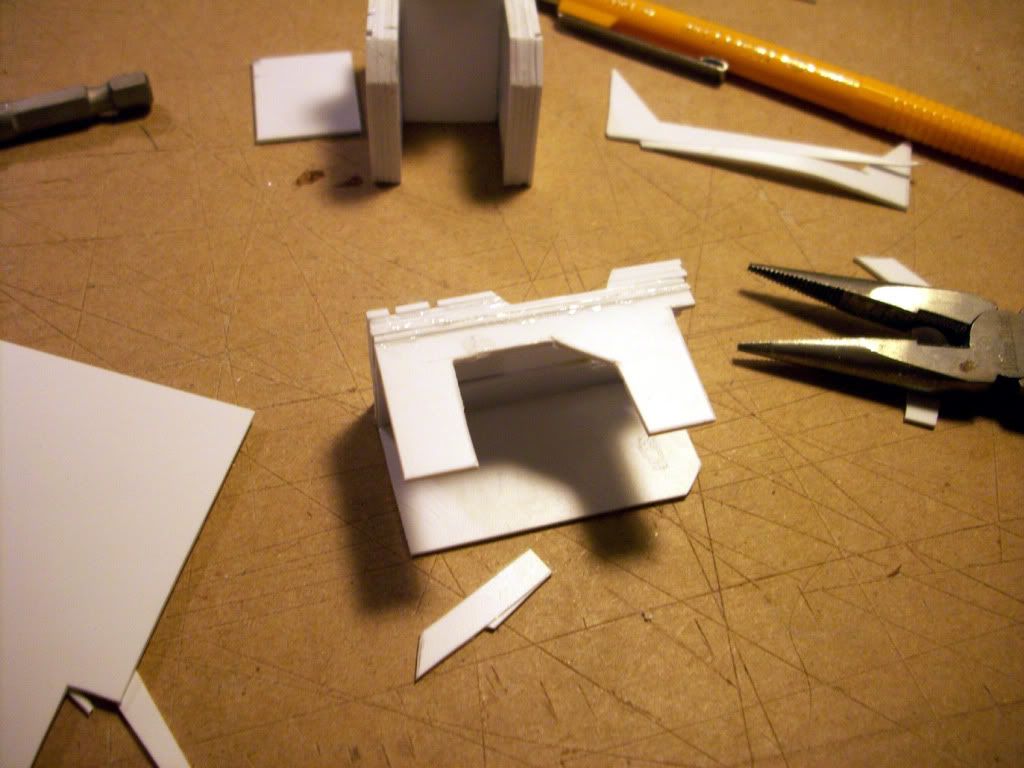 Beginnings of a fist, which I then applied epoxy to and sculpted by cutting and sanding:
This shows more progress of the chest part, filled with epoxy:
Crotch guard! The beginning:
The power of friction! Seriously, just friction:
And this is one of my more in depth techniques, I took some sticky tack (stuff for keeping posters on the wall) and attached it here (it's the yellow globs):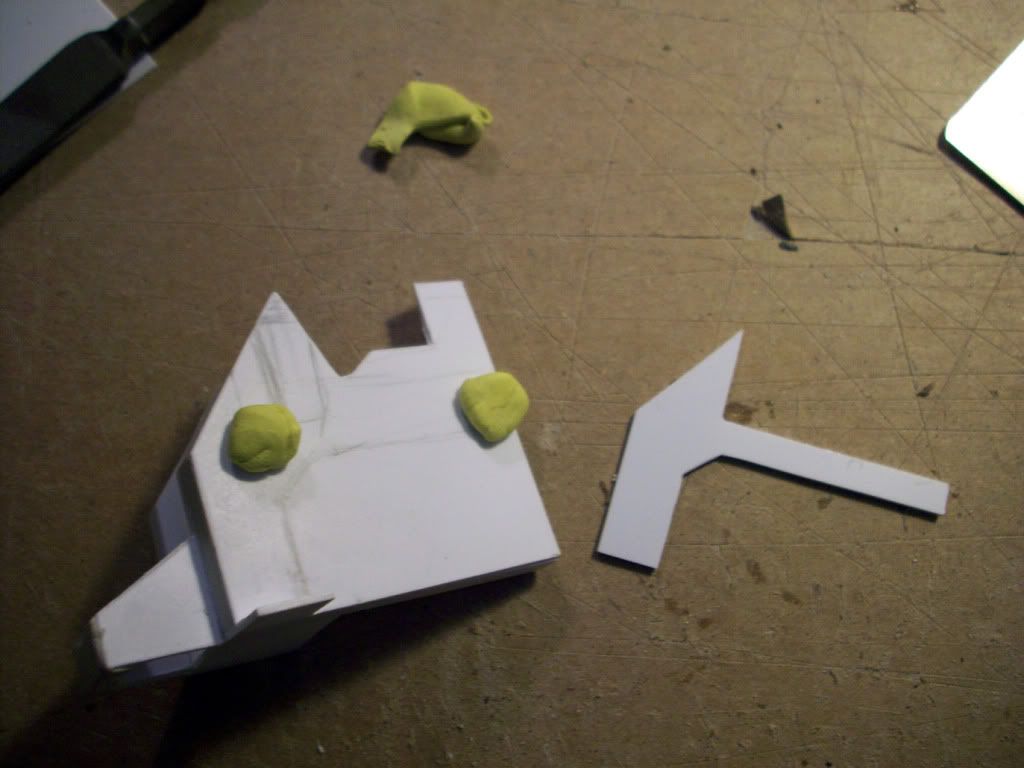 Then I attached the other piece of shaped styrene to where I want it to be:
And here it is glued in place: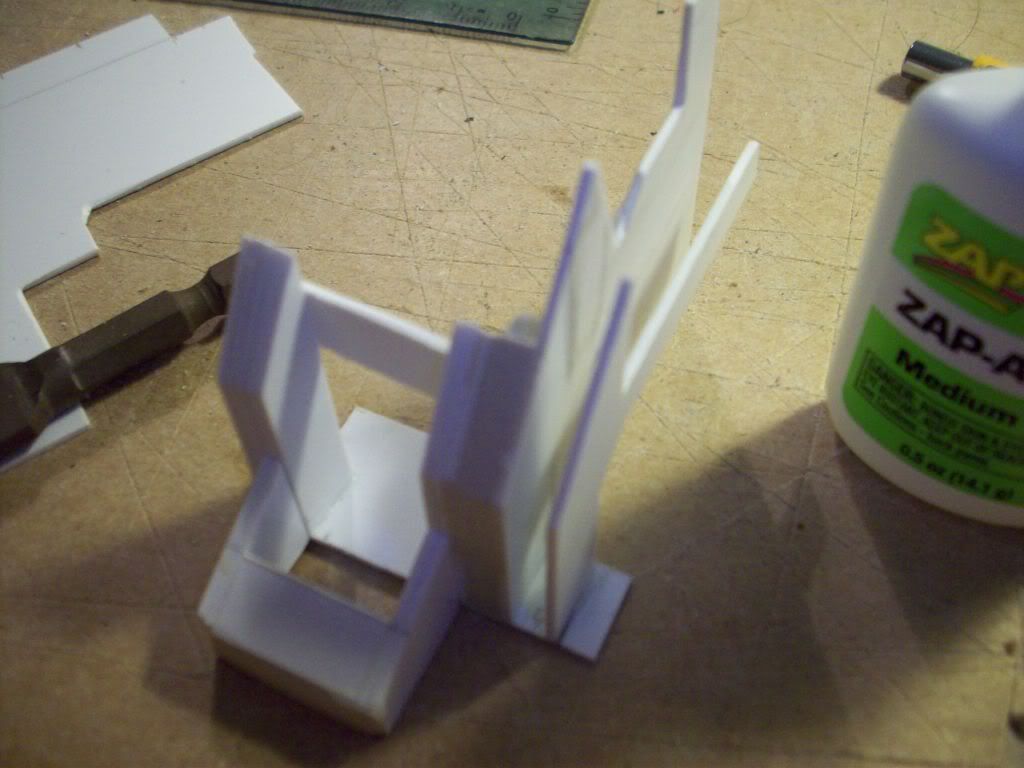 This pic shows a lot of the places I put epoxy, it's the gray areas:
Here's the last in progress shot, it's all primed in gray: