I know there's been a few of these tutorials floating around, but i posted how i was able to do this over at Cyb.CA and a fellow member there suggested i post it over here too.
This should take out almost any guess work in doing this simple mod.
For those who are interested in the look, this is an extremely easy mod to do. All you need are basic hand tools:
hammer
pliers
small Phillips head screwdriver
an even smaller flathead screwdriver
nail clippers
nail file/sanding paper
sidecutters
In alt mode, flip over Rodimus and remove the small flanged Phillips screw located in the center of his undercarriage in between the front and back wheels. You should then end up with 2 chunks of Rodimus: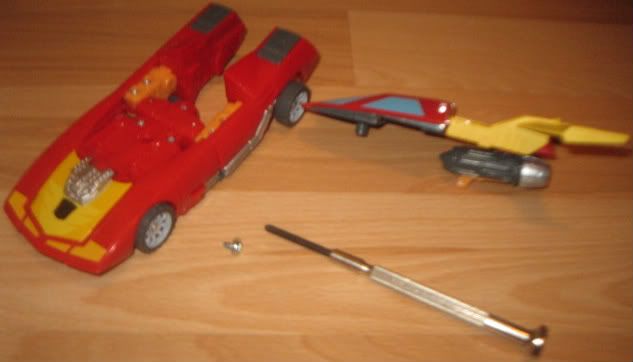 Determine which end of the pin holding his canopy together at the upper back area by looking for the "cross-ribbed" impressions on the ends. On this one, theyíre on the passenger side of the cockpit. Make sure you have verified it really is the side that's ribbed. It's not fun knocking the pin the wrong direction!
Once it's out the other side enough, grab hold of it with a set of pliers and turn while pulling:
Once the pin is out, flip the whole canopy assembly over and now remove the last screw underneath. The assembly should now be able to separate into 3 pieces, canopy glass, interior and the rear middle trunk chunk:
On the upper canopy glass piece, Iíve used black permanent marker to show you what needs to go;
Using a combination of the side-cutters and sand paper, this is what you want to see after removal of the excess:
On the interior piece, you want to shave off plastic at a 45 degree angle at the front of the pivot posts. Again, Iíve used black permanent marker to show what has to go: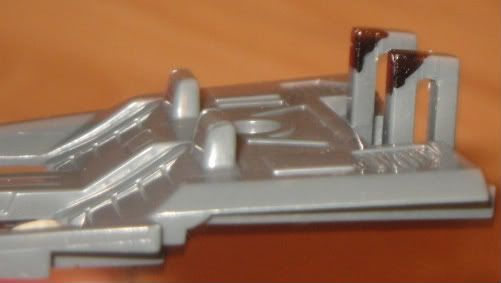 This is where a good sharp nail clipper comes in handy! This is what it should look like after nail cutting: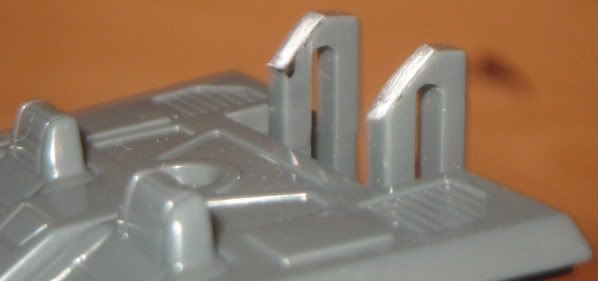 With the sand paper or emery board, round down the sharp edges and angles on where you just cut.it should look like this afterward: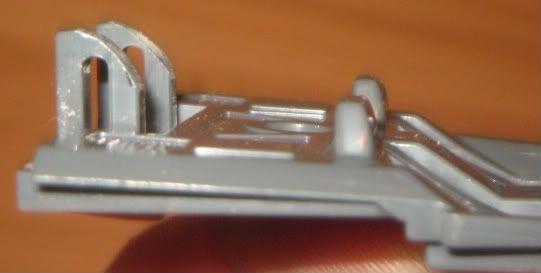 Reassemble the three pieces (canopy glass/interior/rear trunk chunk) but don't re-install any screws. Push the pin back in but only half way. This is when you can test it all for any rub areas, clearance issues, etc.:
On the canopy glass piece, i used a nail clipper again, clipping the very corners of the back of it for more "opening" clearance in alt mode: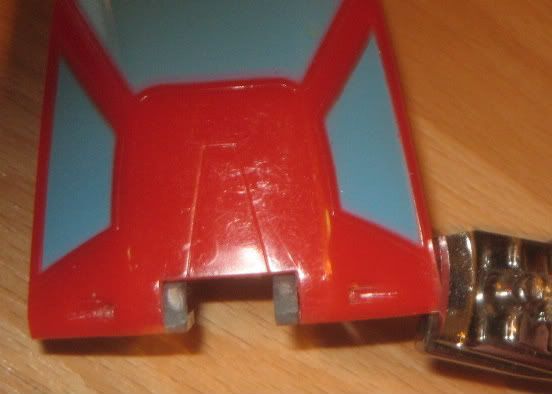 On the front of the glass, to make it functional without having to always bend his front bumper down, I use the nail clippers again to take out two squared corner chunks, shown with black marker again:
. . . . and after clipping: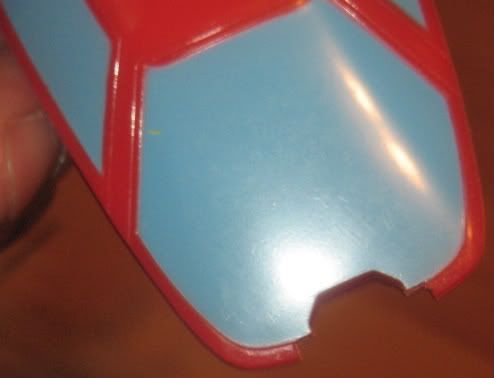 Re-assemble everything, making sure "not" to reinstall the small screw under the canopy. (not the first flanged one you took out, that one goes back in!)
You should end up with about this much plastic removed, along with 1 extra screw: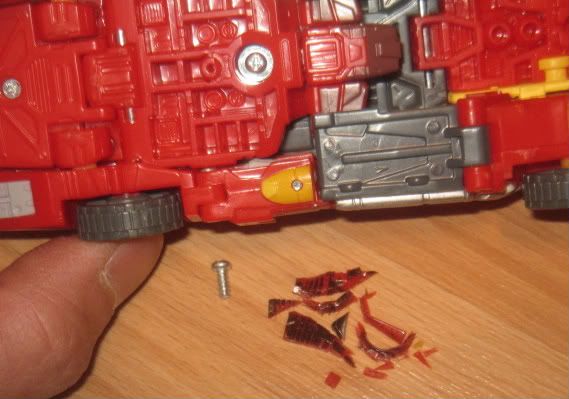 Last step...sit back and enjoy: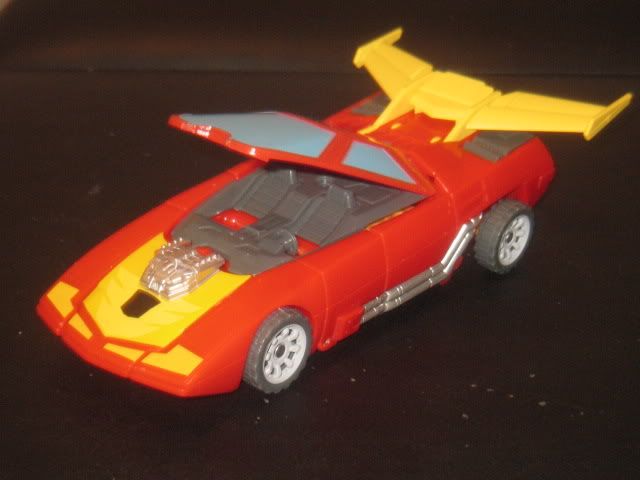 (For those wondering if the molded seats are still there, you can paint the seats as posted above. Also, see chansformers' example below for further reference. ~Sq7
)