Here you will find a large group of Ironhide modifications to improve his Robot mode, with contributions from several different members. Each member's name is listed in bold at the top of their particular modification.
id0ru:
Add a balljoint to the head.
I finally saw a universe Ironhide on store shelves here
and like most people i was a little annoyed about the fact that he couldn't look up.
And as i have a spare Sgt Frog/Keroro gunso gundam kit laying around
I thought I'd have a go at fixing that.
I'm sorry there's not any clear pictures of the gundam parts attached to Ironhide,
but I'm still waiting for the superglue on his neck to completely cure before I want to risk popping his head off of the balljoint again.
Hopefully these pictures will be clear enough.
First off..the parts used are taken from a bandai Keroro gunso mech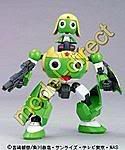 like this one.
I picked up a box full of these for cheap a few months back
and I think the parts I'm using are universal to a lot of small gundam kits.
I had a few socket parts left over and most of the fist will be left untouched.
This is where I was lucky..
If you unscrew Ironhides head and pull it apart, you can see that the halves of his head clamps around a "T" shaped part sticking up from his neck.
and the balljoint socket from this range of robots is almost the exact same size as this "T"
if you trim off the "mound" at the top it should fit snugly inside ironhides head once it's screwed back together (I tried this with a couple of my spare sockets and i had to shave off a tiny tiny part of the socket parts "lip" to allow the head to screw back togther entirely flush with one of them.. so your mileage may vary)
Now for his neck. Firstly I prepared the Ball for the ball joint by trimming it from the fist
Like so. (I'm sure I'll find a use for this fist later on)
I then brutally hacked off half of Ironhides neck.
(there are two vertical indentations at the base on either side of his neck,
I chopped down to the top of these and I just have enough clearance for transformation, I think I would take even more off his neck in the future)
I superglued the Ball part from the fist to his neck stump
(the hardest part, as the plastic his neck is made from does not like to glue)
and popped the head on there and all is well.
And aside from his head I didn't even have to take him apart.
(though it might make it easier to cut the neck down if you remove his upper torso)
I hope this helps at least one person out there!
--------------------------------------------------------
Tamo536:
I made it sort of a hinge so it bends back without stress wear to the plastic. Doing this allows his light-piping to function regardless of what direction his head is facing.
I did 2 different versions of the mod
Type 1
Remove the Head and chest arms screws.
Cut away the circle that holds the chest like so.This will not effect reassembly.
The flap is now flexible on it's own but use some warm water on it to prevent stress marks.
With almost no effort it will bend 30-45 degrees.Just enough for the light piping to take effect and still fold back with no problems during transformations.You will feel a pop but that is the flap reattaching to the shoulders and becoming snug.
Type 2
Basically identical version that i did on a early Ironhide.
The only difference is instead of cutting the circle fully i inserted a strip of metal to reduce the stress marks.IMO it wasn't really needed if you don't bend the piece too far down.
Thumb Articulation
Fairly easy with the right tools.
Remove the pin from his wrist.
Cut off the thumb with a very thin blade or dremel.
Remove any excess plastic until smooth.
Reattach the thumb and pin and tighten(not fully to avoid damaging the thumb)
Gives him a moving thumb when done(will not work on fingers)
-----------------------------------------
Matt Booker:
It is said that one should always look before a leap. The same is true for modding, and not just because of sharpened objects in close proximity to fleshy bits. In fact, I usually take a day or so just thinking of how to fix the toy before I actually do the fix.
Such was not the case this time.
With Ironhide, Peaugh had obtained one earlier than the release date and came up with a fix for the shortcomings in the mold. Peaugh does great preview reviews on youtube, and has modding experience, so I didn't think too much about the issue before I started chopping away with a razor blade.
Peaugh instructed to cut off part of the central gray piece, as on his Ironhide that's what was restricting the head from moving forward. The next step in his mod was to carve away a deep indent in the top of Ironhide's crotch so it sits more flush with the bumper in its now more forward position.
I'll talk more about the specifics of crotch placement and middle piece carving on Friday. It has little to do with my mod, as there is no middle piece or crotch carving required to have an awesome Ironhide.
The reason I mention it now is so that you can be mindful of the lesson I learned.
Even if someone has a mod that works, you should still think about it for yourself.
Yes, I realize that the point of my guides is to offer a step by step for people to follow along with, but I still want you to think about how to fix it. That's how you learn. Too many people get through school by just regurgitating facts and figures, when they should be thinking about hows and whys and ways to apply that knowledge.
In this instance, Peaugh's mod worked for his Ironhide, but his was bought way before retail and seems to suffer less from the crappy backpack syndrome that the mass released Ironhide has. Because his backpack folded together better, he never even came across the first issue I had to fix on my Ironhide.
The result? I cut away from the middle piece and eagerly transformed Ironhide to find he still was in the same sad state as before. Only now he had a massive hole in his midsection. The bumper obstructing the middle piece didn't matter, because my Ironhide never even got to that point.
To make things worse, carving away at the top of the crotch matters little in the scheme of things, because that just makes the hips sit higher and then they are obstructed by the bumper. Not only that, but the backpack just hangs there at an angle, wanting to fold all the way down but too obstructed to do so.
I went back and this time I did my own thinking about how to fix Ironhide, and figured out the problem (which led to the next problem, but I found a way to fix that one too). I'll get into the specifics about those during their own posts, but for now let me illustrate the consequence of not looking before I leapt…
That's not too bad when you look at it from the front. The crotch is a little floaty (unattached), but it's not that easy to tell from this angle.
Ah, here's where you see the trouble. That hole in the middle. It didn't bother me too much at first, but I soon realized that I didn't need to cut the middle piece or the crotch at all. Couple that with the crotch carving causing the legs to be obstructed by the bumper (making the floating issue even worse), and I had an Ironhide that was awesome only from the waist up.
A trip to Walmart later and I had an un-carved lower half to swap in, and the end result was an Ironhide that's all kinds of kick-ass.
First Backpack Fix
This first backpack fix is the most necessary out of all the mods to be found in this guide. The other mods don't even matter unless you do this one. It's also the most obvious of the bunch, and most people probably stopped here and figured 'good enough.'
our current clearance issue
Notice the central gray piece (the part the crotch is attached to) doesn't even get close to touching the bumper. This is because of two molding issues on the part that attaches his backpack to his, well, back.
Observe these two pictures closely.
The blue circled areas show where the rear wheel wells of Ironhide's alt mode are being blocked by the plastic ridges on the sides of that middle backpack-attaching piece. The two ridges are there to provide extra strength for that middle piece. It's all that's holding the pack to his back, and it probably worked well the way it was designed. I'd guess that somewhere along the line, it broke during a drop test and extra plastic was added.
No problem, though, because this part is easy enough to fix.
Remove the three screws that attach the backpack to that middle piece. Next, remove the two screws holding his torso together (one on his gut and one below\behind his head.
Less competent readers will have trouble with that part, but I'm not providing a picture for how to remove the screws. If you can't find them (or figure it out based on context), you probably shouldn't even attempt the carving…
After the screws have been removed, gently pull his torso apart and you'll be left with three pieces- his legs attached to a middle part with the head mounted on top, and the right and left halves of his torso.
Here's a picture of the part we're after, colored green for your convenience.
Now, take your blade of choice and shave off thin strips of the plastic, like so…
Shaving only thin strips will make the job go quicker and easier. Trying to hack off a big chunk with just the razorblade can get difficult and dangerous.
If you look closely at the pic, you'll see there are long notches on it. We can use these as a way to standardize the amount of plastic that's needed to be cut. Less guesswork means more efficient cutting. Here's an picture of what you should have after the cutting, enhanced to show detail.
Second Backpack Fix
The second backpack mod is the natural conclusion to the first. Now that the wheels can even attempt fitting into the backpack, we need to make them fit.
This mod will give you that extra bit of clearance for the head and let the backpack fold completely around and securely click into place. As before, this was probably how it was meant to be, but safety testing added extra plastic.
With that in mind, you should consider that the backpack left with just the first mod is under stress from the tires trying to fit. That might be fine for now, but eventually that plastic is going to have problems.
The wheels do fit properly, but that's what this second backpack fix is for. You have to remove two screws and shave down the raised areas that contained them.
The circled area in that picture shows how it seems the wheels were designed without those two raised areas in mind. Without them, there's just enough clearance in the backpack for the wheels to come completely to the top.
If you've been following along, you should know how to shave by now. Here's a picture of the removed screws and the result of careful cutting.
The shape of the plastic and the way the two pieces comfortably lock into each other means that one screw is plenty to hold the backpack in place. You won't have any accidental rotations, and it's still sturdy enough to be a part of Ironhide.
When you're done, reassemble and enjoy your almost awesome Ironhide.
The backpack should now fold completely down and click into place on the bottom of the wheel well pieces. This also lets it sit snugly up against the back of the central piece, making for a more unified midsection.
Proper Posture
Even with all the backpack fixes, Ironhide's head is still looking down. No amount of internal carving is going to fix that.
But there are solutions. And I'll even show you mine!
(And it still involves no cutting on the crotch\middle piece.)
A little thing that might not bother the average collector, but would niggle at me until I did something about it.
After all that modding, Ironhide's hips were WAY too far forward.
n fact, after all these mods and risking cuticle and skin with razorblade in hand, his proportions were completely thrown off. His hips were far forward, his arms in the middle, and his head behind those.
Think of it like this:
H
..A
…..L
That stands for Head, Arms, and Legs.
Here is a picture with his head parallel to the ground.
See how far forward his hips are? And his shoulders would be in the middle. Keep in mind, this is the original construction of the bot, and not because of any alterations.
After this, a slight modification in leg positioning and suddenly his body lines up more with the human physique, and is much more pleasing to look at.
Unfortunately, this causes his head to look down.
So how the heck do we fix that?
I put his head on a ball joint. I'd never done that before, and instead of going to google and trying to find a guide, I figured it out on my own.
(Ball joint guide is noted further down)
I strongly advise against doing the following mods and transformations.

First, lets go over that crotch\middle piece mod that I mentioned above.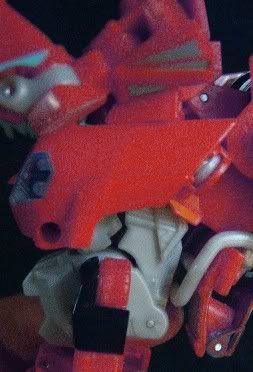 That should be your current crotch position. Notice how the hips line up with the arms, and the head is right in line with those. That's pleasing to the eye, because it's more like us.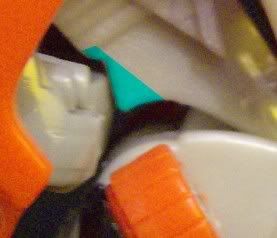 Then you can push the hips forward more and raise his head up that last little bit. I would caution you to take heed of what I learned, though. Buying another Ironhide just to have an unmodded midsection could be hard to do if he's rare in your area.
Go back and really look at those two 'posture' pictures near the start of this post.
It was pretty easy to stand him in the 'level with the ground' position because his upper body wasn't attached. But when it is attached, the added weight of it (some of which is even further back, thanks to the wheels being in the backpack) won't let him stand that way.
So to have that true parallel position, you'll have to either put one leg back into a 'leaning drunk' position, or use the forward joint of his knees to put his feet farther back than his hips.
Now, some of you might be wondering if there's an easier way. An easier, less mod involved way.
Several fans have come up with their own transformations for Ironhide. Take a look around, and you might find that you like them. I'm going to show a couple of examples and hopefully you'll find reason enough to continue on with this guide and perform the mods therein.
First up is kind of a jetpack mode.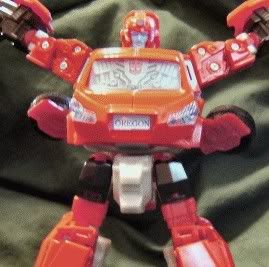 Several people have mentioned it, and it seems natural enough in the course of playing around with the positions that it's impractical to look for who posted about it first. I have three issues with this, though.
First, although the backpack is now free to fold down more, it's now empty and looks out of place. Second, the wings get in the way. Third, while it's cool that it's kind of like a jetpack, it just seems out of character. Yeah, Ironhide flew a couple times in the first few episodes of g1, but he was shot out of the sky and that power was quickly forgotten as the writers fudged that ability over to the 'decepticon only' section.
The last one I'm going to mention has lots of variations, and lots of people touting it. It's another empty backpack mode, but this time the wheels and bumper are left down like they are in alt mode. The variations are all in how you like to position the crotch. Some people swap the legs (or not) and turn it around, some leave it as is and push it forward.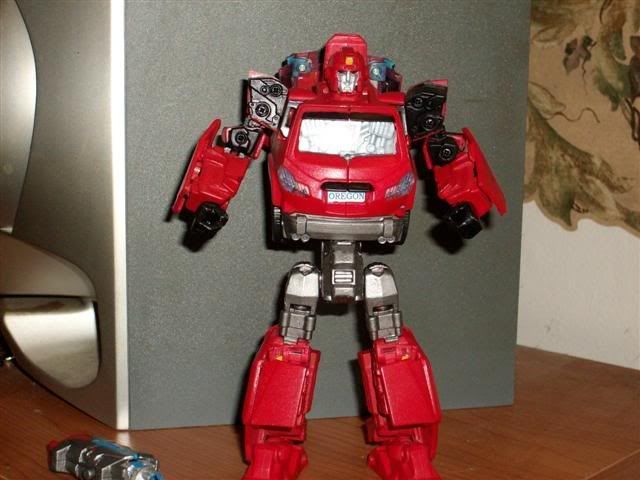 (photo credit to Xhairs)
Unfortunately, this configuration suffers worse than the one above. The chest plate has been glued to the window so it remains there even in alt mode, getting rid of one of the best parts of the transformation. The middle piece has been cut to allow more clearance against the bumper, and the crotch is pointed down. That gives Ironhide even more height, but that's just trading one problem for a worse one.
Yes, he's taller, but a skinny midsection and extra long torso result in less than human aesthetics. The average arm length for humans has the hands hang comfortably somewhere between the hip and knee. With this transformation, poor Ironhide can't even reach the top of his hips.
He's a robot, but a humanoid one.
Ball Joint Head
Ironhide deserves more than just a swivel joint for neck articulation.
First, we must obtain a suitable ball joint, and that includes the socket itself.
Being a cheap/resourceful modder, the first place I look for parts is my junk pile of broken or otherwise mutilated bots.
A great suggestion is if you have a junked out Energon Rodimus, as his is the perfect size and fit.
His is pretty much the same size as Ironhide's, and it's on a ball joint.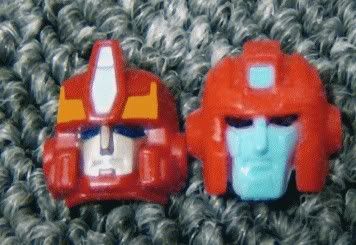 Even better, when I unscrewed the halves of his head, I found the socket was a separate piece!
That makes this mod so much easier.
Be mindful of that picture. That part with the slot in it is what I'm going to refer to as the top section of that piece. It's what's going to get oriented towards the top of Ironhide's head.
Here's another angle of that piece, showing the bottom view.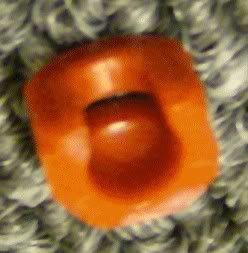 Notice the bottom has a wider, more rounded hole than the other side? The other one is more of a slot, to help keep the ball from coming out of the socket, whereas the bottom is wider to allow the ball to (with a little effort) snap in and out of the joint.
If you don't put the bigger hole on the bottom, you'll never get Ironhide's head on the joint once it's assembled.
Just remember that the slot is on top and the round hole is on the bottom.
If you've been following along, you should be skilled enough at carving to tackle this next part. It's harder, but only because the piece is so small. If you have trouble keeping it held steady, leave it attached to the ball joint on Energon Rodimus.
Before I start describing things, here's a picture.
Compare that with the pictures above and you'll see that all you really need to do is level off the rounded edges. I also took more off the top than is shown in that picture, but not by much.
Just shave off thin pieces and you'll be fine.
Before you get started, though, read the rest of this post. You should probably always do that, but especially so today. That's because the carving for the socket and the head are both approximations. There is no, "Cut at point A until you come to point B."
I'll show you the pictures of how I did it, but you're going to have to fiddle with it.
Next, unscrew Ironhide's head.
Do you see how his light piping is protected by a barrier of plastic when the head is jointed together?
Lets keep it that way. Any carving you do will not go past that plastic barrier. In fact, that's what the socket is going to sit up against inside his head.
Now we just have to widen the hole so the socket can fit.
Compare that picture with the first one. Just take your blade of choice and carve away until the hole is wide enough to fit the socket.
It looks rough, and it is. This part of his head won't be visible once we glue the socket into place.
As you carve, be sure to frequently check how well the socket fits inside the head. It should be decently snug, but again, a little rough is okay. We're going to glue it into place so a snug fit isn't that important.
When fit together, you'll want this new 'neck' piece to be as short as possible, so you don't run into clearance issues when transforming.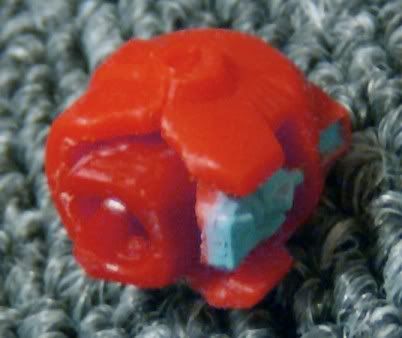 That's how mine ended up, but if you can get it a tiny bit shorter it'll be even better.
Once you've got everything the way you want it, put a thin layer of your favorite plastic adhesive (Plastic Weld is supposed to be awesome, but I just used KrazyGlue because it's what I had on hand.) on both the socket and the inside of the head, and then attach.
Be sure not to clog up the eye holes.
Hold the pieces tightly together for a bit, and when you're sure the grip is holding it's own, put the light piping back in and use the screw to secure it. Then let it sit for a day or so, just to be sure everything is good and bonded.
While that's going on, you can deal with attaching the ball joint itself.
First, we need to get rid of that swivel joint that Ironhide's head was sitting on.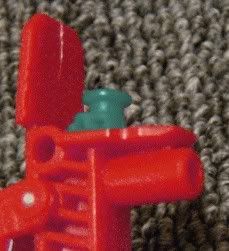 The section to be removed is colored dark teal in that picture. I took a pair of sharp meat shears and chopped off most of it, then shaved down the rough pieces that remained
Now, we need a proper ball joint. One that fits a good way to attach it, and is appropriately colored. Energon Rodimus has one that's bright orange, and would draw too much attention. If a match can't be found for color, it should at least be a darker shade so it can blend into the shadows.
Off to the aforementioned junk pile I went, and among the mutilated remains of Cybertron Swerve was the answer- his shoulder joint!

It's a bit darker than that picture shows, being a deep purpley red. Not Galvatron purple or anything. More like 'fruitsnack red.'
Now, there are a few different methods you can use to go about this.
First, the more appropriate method:
After carving off the flat base of the ball joint, you're left with just the ball and the peg itself. Kind of a lollipop look.
Next, if you have access to a small enough drill, you can make a hole under where we want Ironhide's head to go. There should be plenty of space for you to drill, but only go deep enough for the ball joint to anchor itself while still having room for the head.
If you don't have a drill, a little more cutting is needed, so wait until the head is bonded enough to support popping the ball joint in and out of the socket. The reason for this is that the peg is too long as is, and needs to be shortened.
You'll have to play around with it a bit to get the length right, so just be careful and take your time.
I know this step of the guide has been pretty, inexact, but if you trust in yourself and take it easy on the way, it's worth it.
That being said, here's another "you'll have to play around with it" part.
Find the exact spot that you want the head to sit, and glue the post onto it.
I just coated both pieces with krazy glue and attached it. It involved several minutes of tightly holding the post to the piece, and applying more glue to both in order to add extra strength to the bond.
Yes, it's a cut corner. The drill method should work much better.
No, it's not weak. I let it set for a few days and the joint is sturdy and still not loose.
Here's a picture of my finished ball joint, sans the head.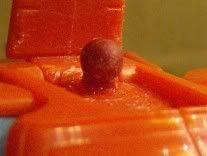 If you're having trouble finding the right length to cut the peg, use that picture as a guide.
My Ironhide now has a human stature and his head has a greater range of motion than just looking down and side to side.
He still transforms perfectly, and the only change I had to make for that process was to turn his head sideways when folding up his chest. And even that won't be needed if you make his neck a little shorter than I did on mine.
------------------------------------------------------------
DJCHARTERS:
Head fix
what you do is, cut away the plastic between the neck plate and the plastic tube underneath. be careful not to cut to far along or it might weaken the hole at the back of the neck. then i simply jammed a piece of plastic into the gap which forces the head and neck plate up higher and hey presto it sits flush with main body.
remember to be careful when doing this, to much pressure and you could end up with a broken ironhide
also if your careful there wont be any stress marks and it defo doesnt effect his transformation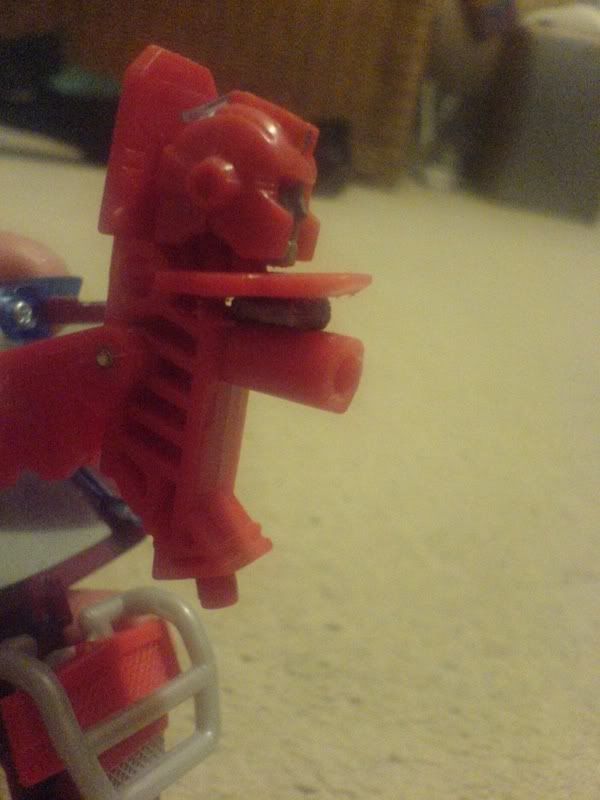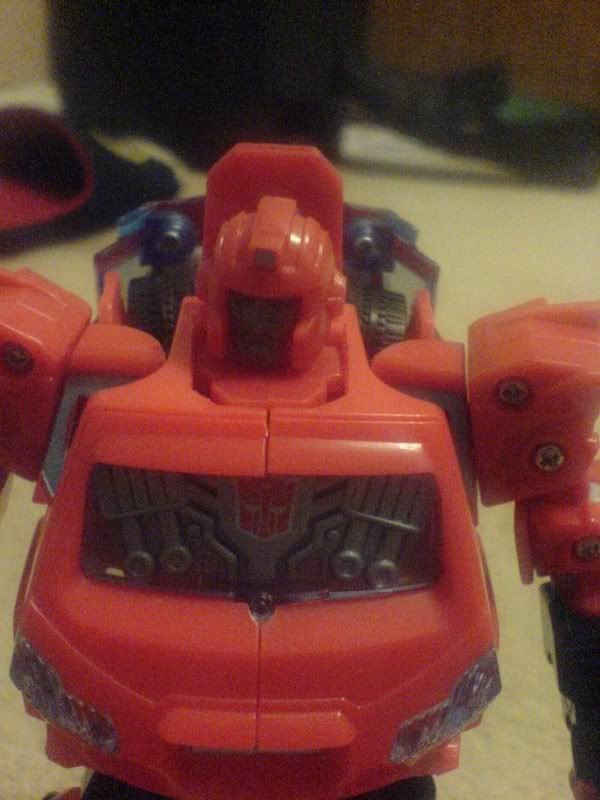 -------------------------------------------------------
Viagra Prime:
Leg Mod
haven't been doing much customizing due to my back. But I still fiddle around with new stuff and found this leg mod for Classics Ironhide. I didn't like how Ironhide looked stumpy so this mod makes him as tall as Sunstreaker. It's quite easy. Just transform the crotch piece the way it is in the pic below. You will then need to swap the legs or else the legs will look like it's backwards. Just unscrew the screw at the hip and then swap the legs and screw back on. That's basically it. It can still transform back to SUV mode without having to swap back the legs.
-------------------------------------------------------
I hope this Tutorial article was helpful to you. If you know of something that is missing that you feel should be added to this article, please contact a Radicon staff member to get your info added!
Big thanks to the members who've contributed to this article.