Battle Damage for Dummies ....like me.
DISCLAIMER:
* Before you attempt anything in this tutorial let it be known that this involves techniques that can cause severe burns as well as the use of a "dremel" power tool with cutting disc which can cut through you a lot easier than it can cut through plastic. Proper eye wear protection is essential to avoid flying bits of hot plastic in your eyes.
* Keep children AND pets away when attempting any of these techniques.
* Work in a well ventilated area as some techniques involve melting plastic - you do not want to inhale any smoke or paint/glue fumes.
* Know/learn how to use tools shown here properly before attempting any of these techniques.
* Author of the tutorial and any website it's linked to is not responsible for any damages or injuries as a result of attempting any of these techniques.
Alrighty ! Here we go...
Here is Alt. Silverstreak, he's gonna help me show you how we do things around here...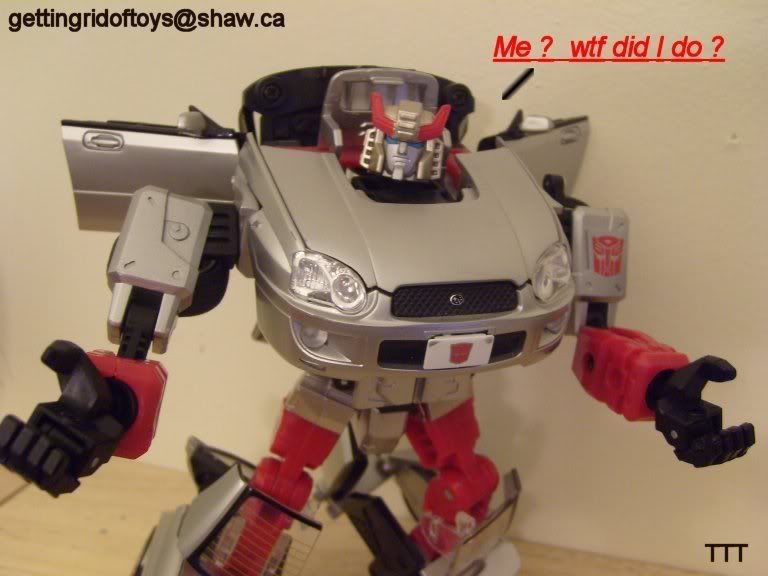 2 things you'll need : a solid metal rod, I use shower curtain rods.
Bobby pin. (Guys get your gf to pick these up for you - save yourself the shame - LOL)
First were gonna create some laser wounds & small dents and fish out an eyeball...
Laser wounds: I use a (mostly)straightened metal curtain rod, I get the tip super hot almost red hot - I'll let you decide how you heat yours up, use a safe heat source
Once hot apply the rod to the desired location on the figure and PUSH ! - But be careful !
Melting plastic should be displaced around the wound, pull out your rod (... never mind...) soon after, if you leave it in too long the plastic will harden and crack as you remove the rod.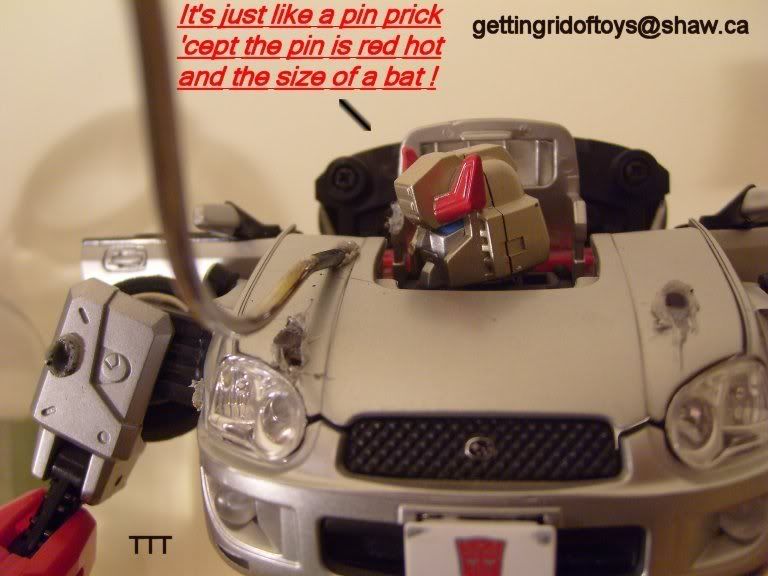 Dents: same thing, just heat up that rod and touch areas where a dent is needed - this work great on a corner like near the top of the head.
Eyeball removal:
I mostly use the bobby pin for this but sometimes if I'm going for a more gory look I'll use the curtain rod. Just get it red hot and PUSH !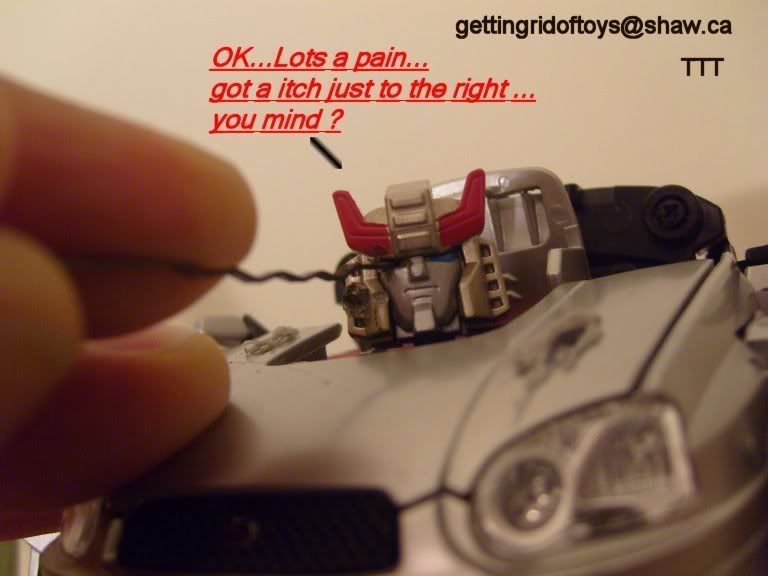 Repeat as necessary until eye is removed...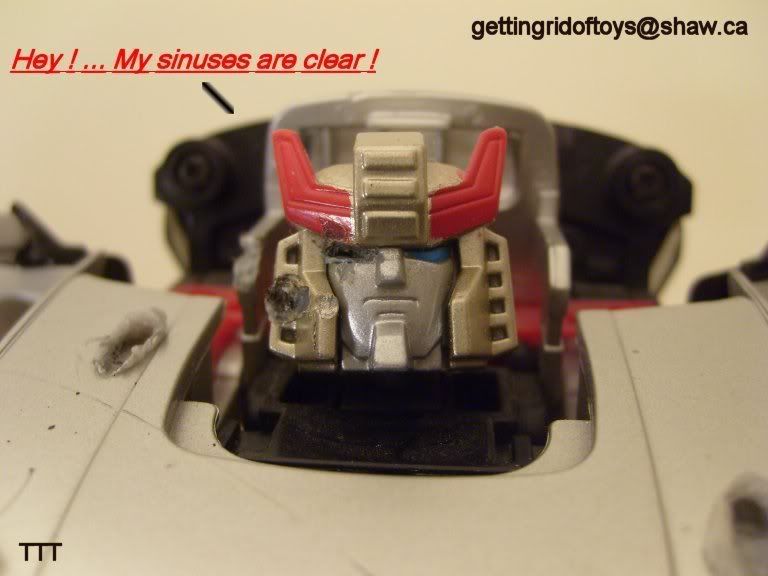 Lets get crackin on some glass shall we ?
You'll need a pin for this one, if this was an MP Prime I'd use something bigger like a boxcutter or Exacto blade.
It's almost as easy as it looks:
Start by scratching a small circle as the center point then scribe in some long outward lines from the center of the circle.
Start in the center and slowly scribe your way outwards connecting the lines but try not to make them match up as you go, random pattern works best.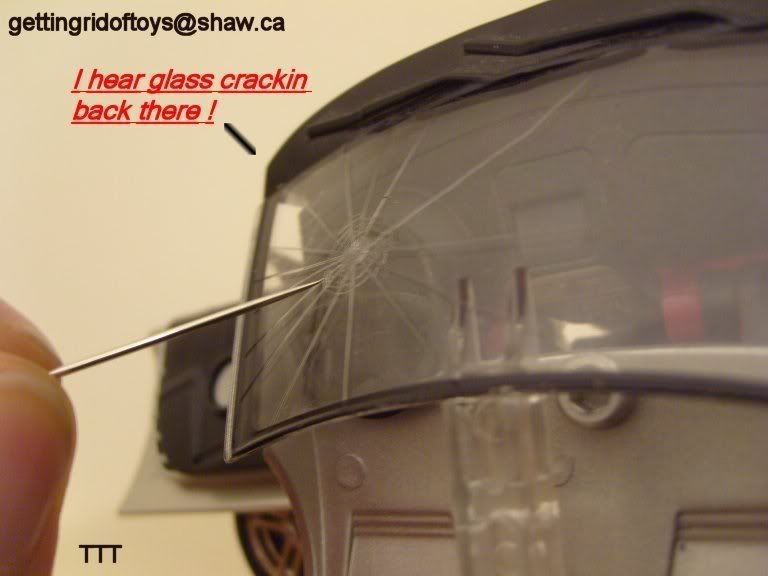 Other cracks:
For a more simple crack just scribe in by hand - practice on old CD cases.
This head light is made of very thick plastic so it's tough to work with - some are easier(Mirage) than others.
Body Cracks:
I just use a boxcutter scribing in cracks on an angle, again - practice on old CD cases.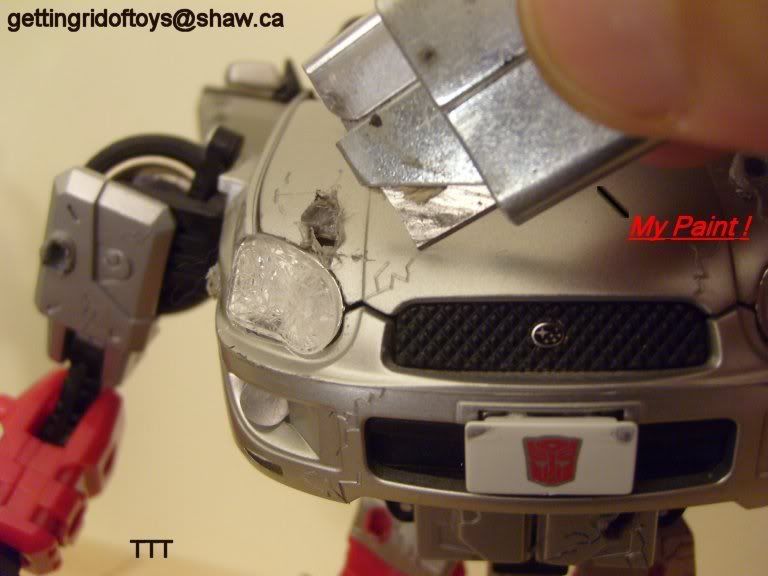 Cuts & more Severe Damage:
Dremel and cutting disc will get the job done. This more than anything else shown here is what will take the most practise to perfect so practice on what you can - KO's other toys etc.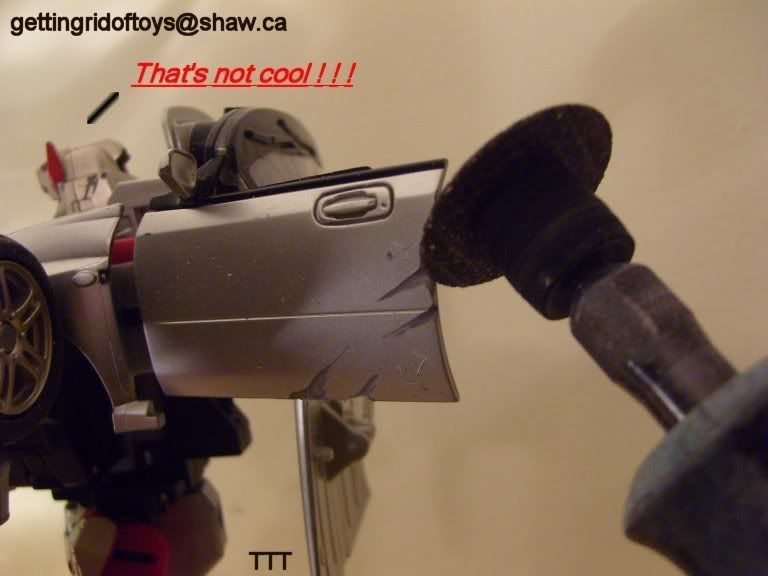 Blown Off Hand:
Remove fist, cut the end of the arm off at the wrist.
Cut in lines of different depths and widen the cuts where the wrist was.
Try to arrange the blown off tips at different heights and sharpen them up a little with the dremel & disc.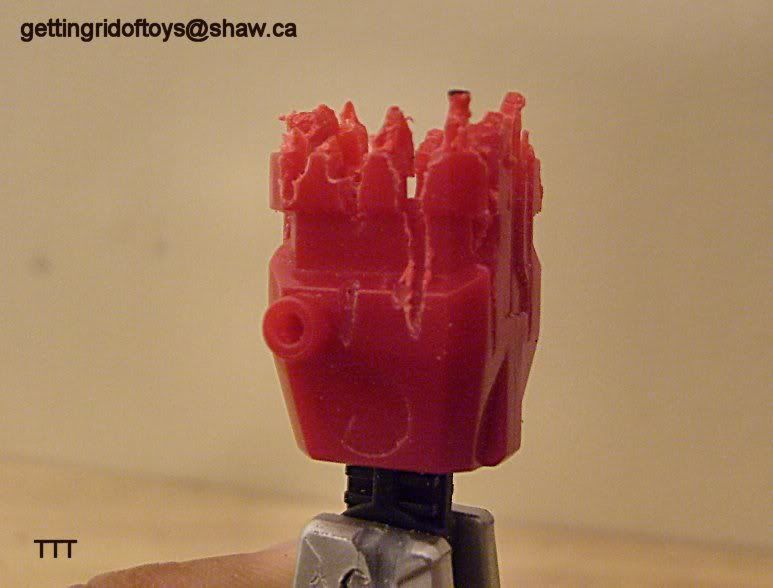 The damage is done !
OK we're ready for paint...
First thing I did here was dirty him up all over, this is done by giving small areas a good coating of flat black maybe watered down a little to get INTO all those hard to reach spots then wipe it off.
I usually do this within 1-2 square inches at a time.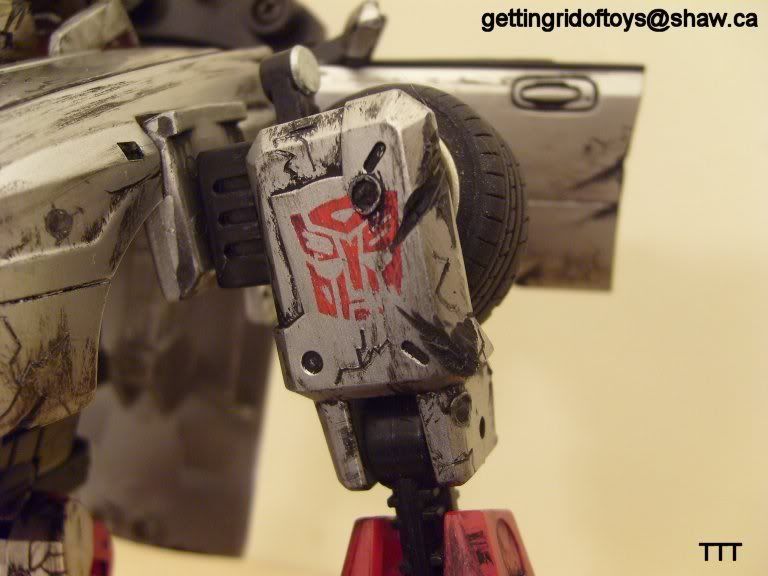 Notice how this really helps the overall look of the damage !
Now do that with silver over your cracked glass ! ! !
While you got the silver out start touching up all those wounds ya burned into him...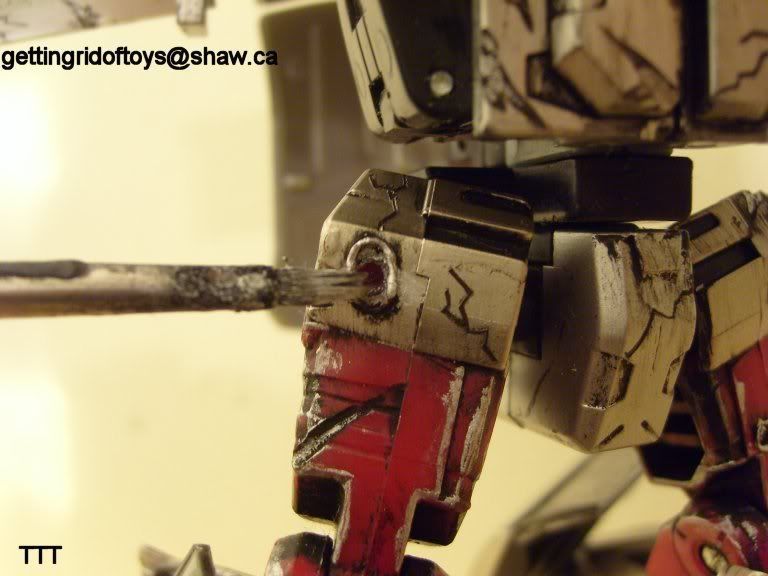 And inside that arm.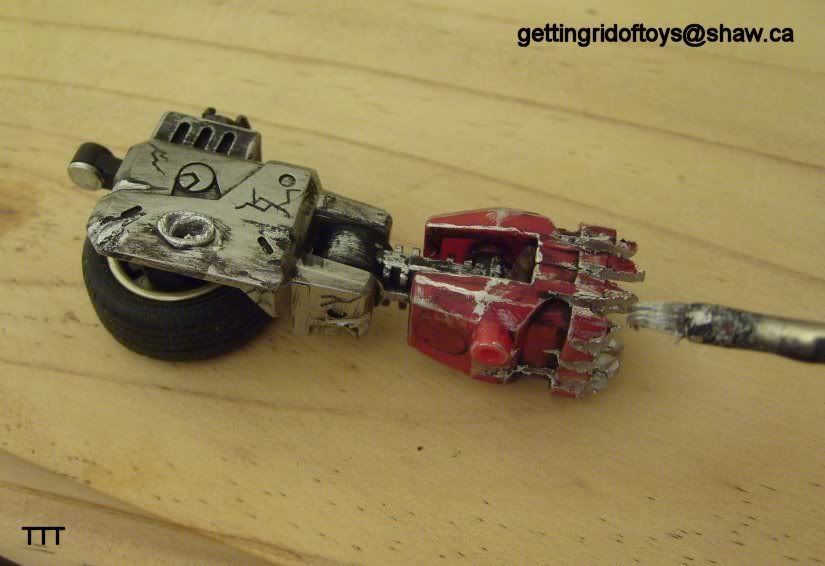 You can also run your brush along the leading edges to give him a weathered/scraped up look.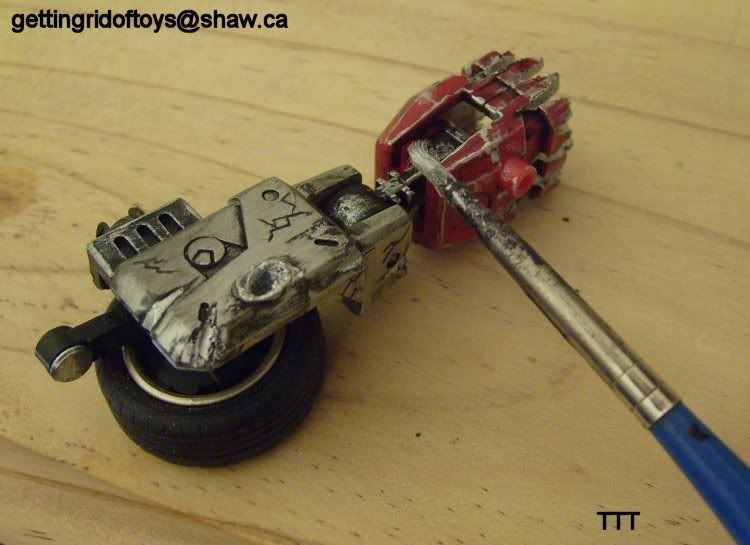 Once everything has dried I will go over all the silver added to the wounds with a flat black wash. Done painting.
Wiring:
This is tough to explain cause I do it different every time.
This one I wedged in some metal wiring, crazy glued elec. wiring to it and added some ripped bits of tinfoil(industrial) to fill in the spaces.
I can't really plan anything until I have the arm opened up - then you gotta work with what you got. Wiring on the main body is usually attached by unscrewing parts(seat or inner grill), wedging the end of the wire under the part and screwing it back down.
One thing I ALWAYS see on battle damage figures with exposed wires is brand spankin new clean cut wires...take some needle nose pliers and get crazy, squish bits here & there - kink it, twist it... and FRAY the wires ends - make the wire casing look burnt at the end with a touch of flat black.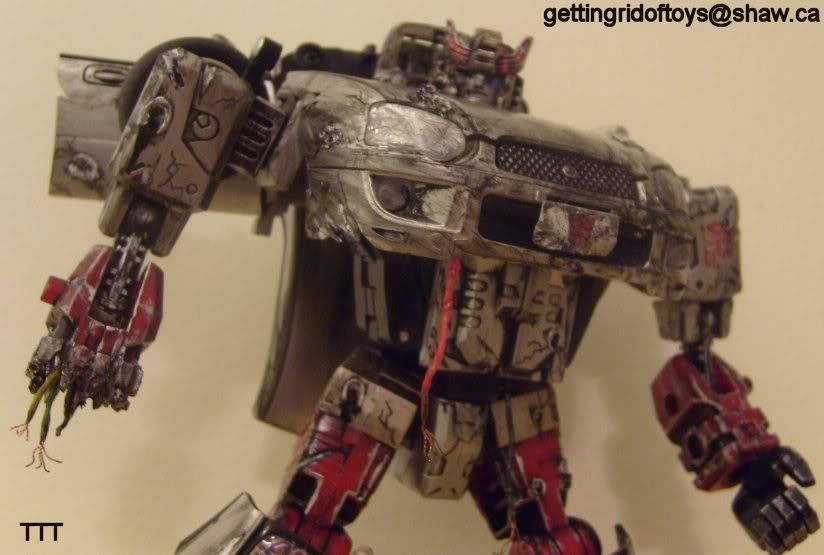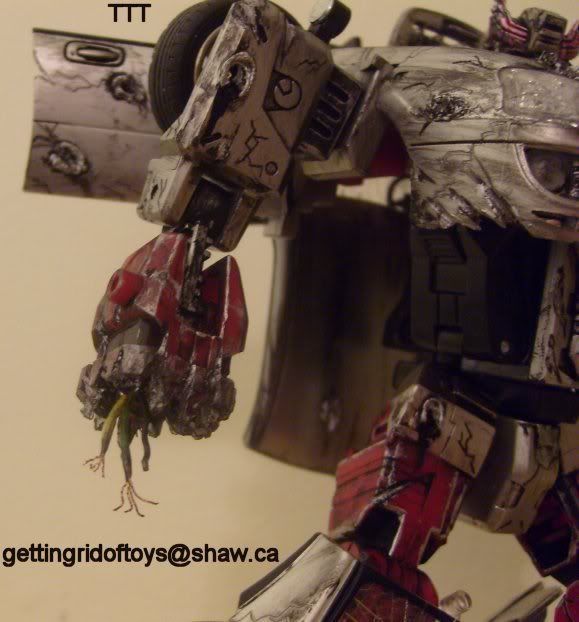 Guess what ? - Yer done !
Thanks to all who supported and inspired me - You know who you are ! ! !
Let me know how many you ruin !
TTT
Quote:
Originally Posted by TheTransTorture
It reeeeally depends on what your putting it on, detail-wise...
also how watered down your paint is - if any, how hard or gentle you wipe, wiping it off right away - or letting it sit for 5 seconds before wiping....if you experiment with the paint that you have you'll figure it out in about 5 minutes...try the safer stuff first.
Don't forget - take the time to make sure to get paint in ALL those nooks & crannies before wiping.
There are other methods as well - this is only one of them.