Hey all. I've recentley decided to come up with a digibashing tuturial for those that have the paint.net program. Others may do it differently, but, this is how I've been doing it. Hope it's easy to understand, and will help at least some people with digibashing. I've included screenshots to help guide you.
This is the digibash that I'll be using as an example-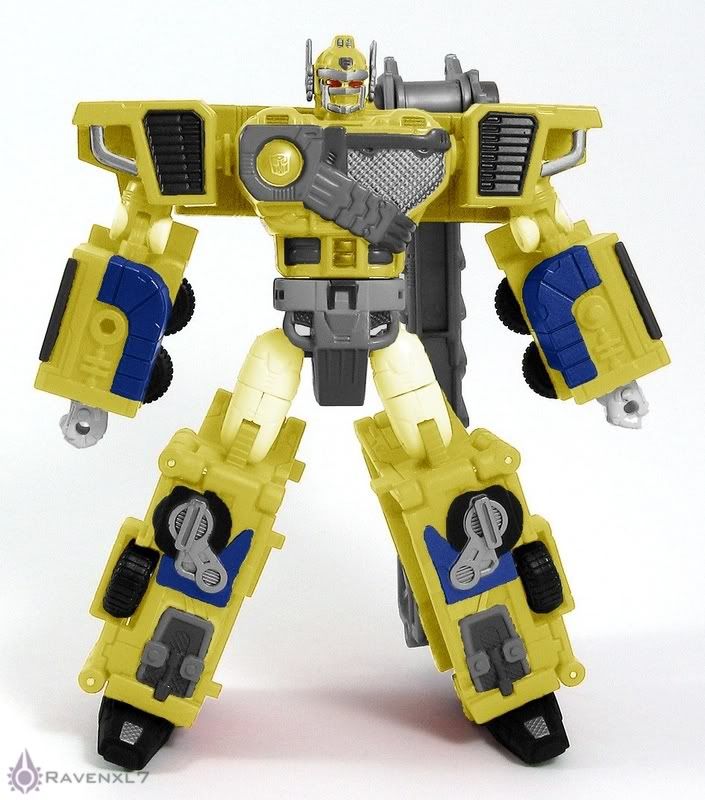 1. Firstly, open the image you want to edit into paint.net.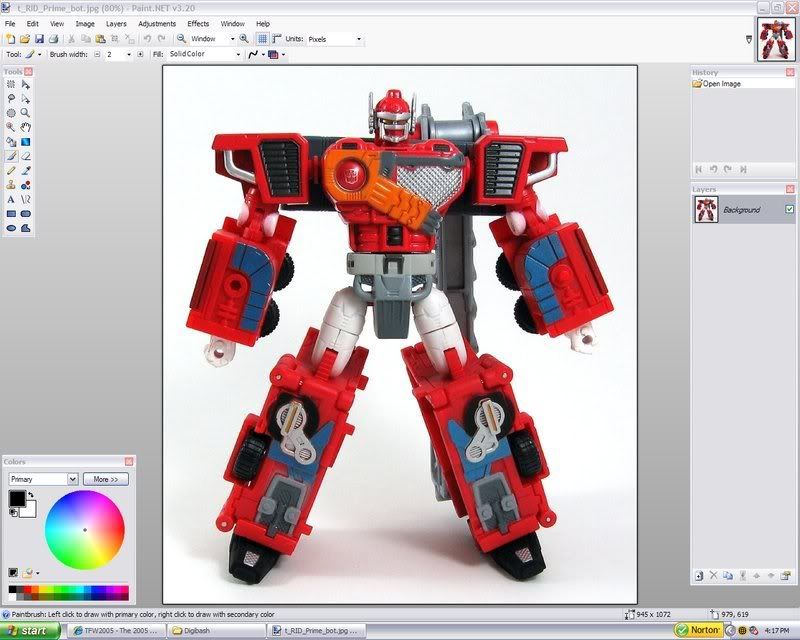 2. Make multiple copies of the layer with the image in it (one for each color that will make it into the final product).
3. Pick a layer, go to Adjustments and click Sepia.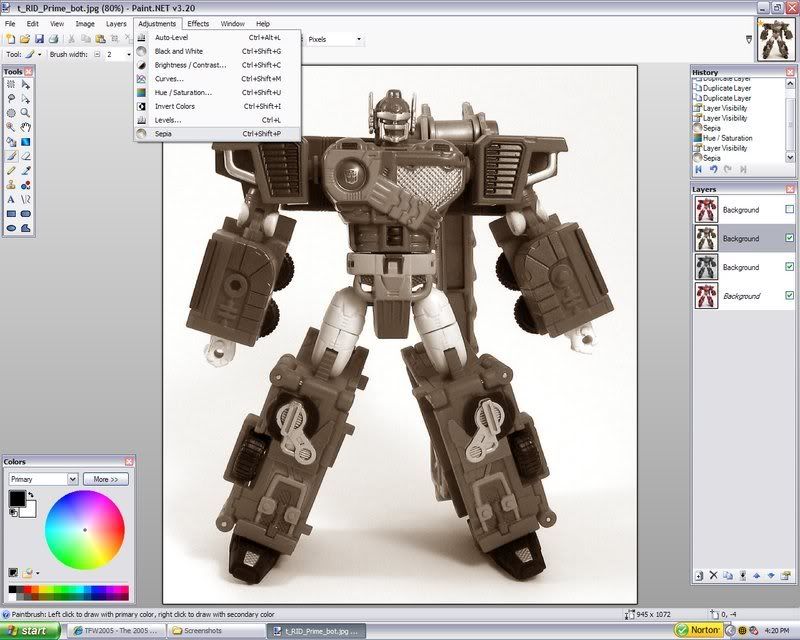 4. Go back to Adjustments and click Hue/Saturation, and adjust the Hue, Saturation, and Lightness settings till you get the desired color. Repeat this for all the layers that you want to change the color of.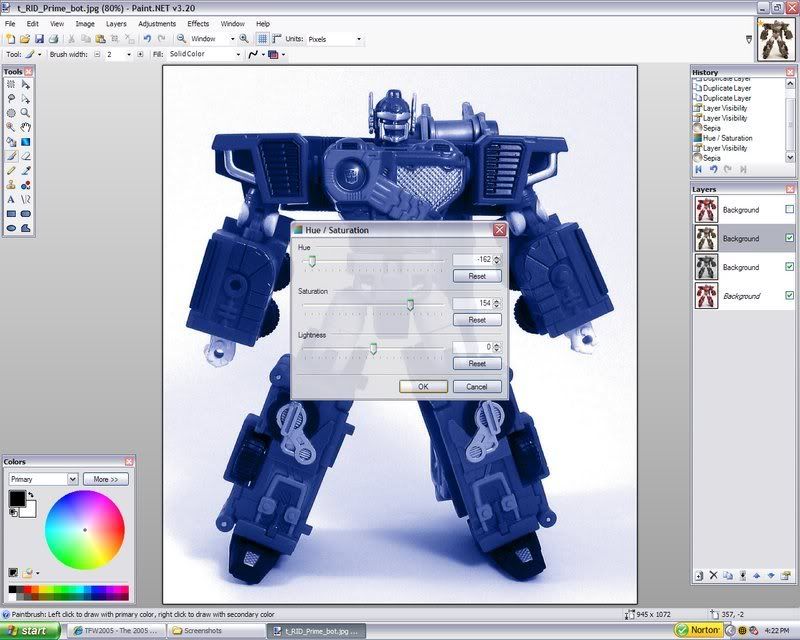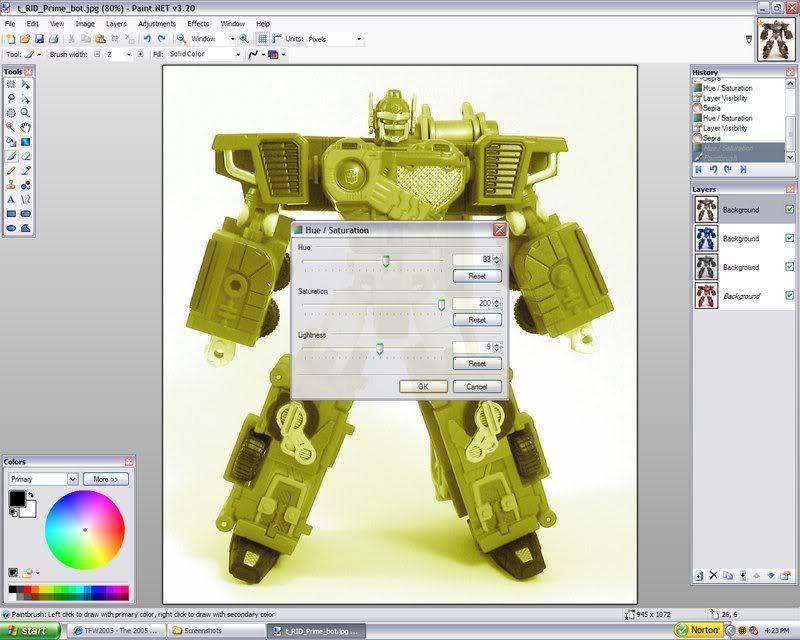 5. Make another copy of the bottom layer (should say Background in italics), and move it so that it's the top layer.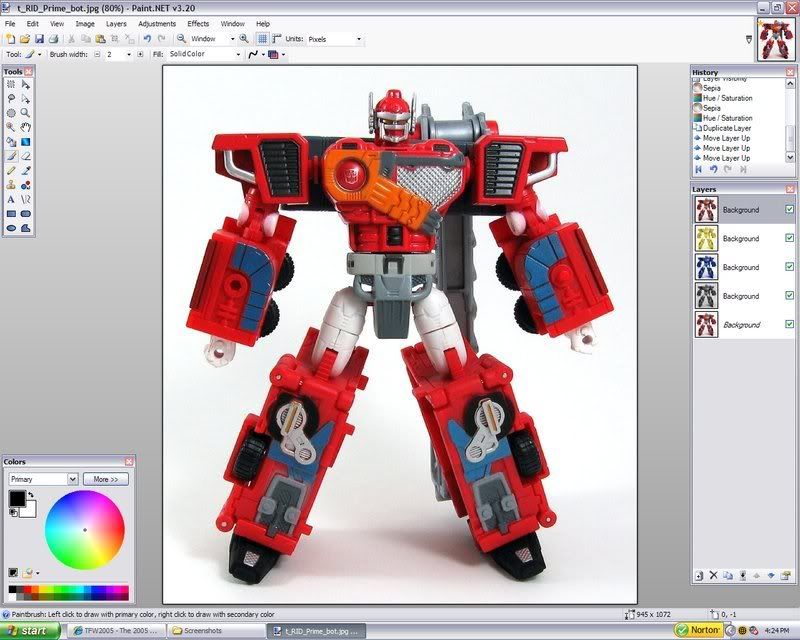 6. With the top layer selected, erase everything except for the background.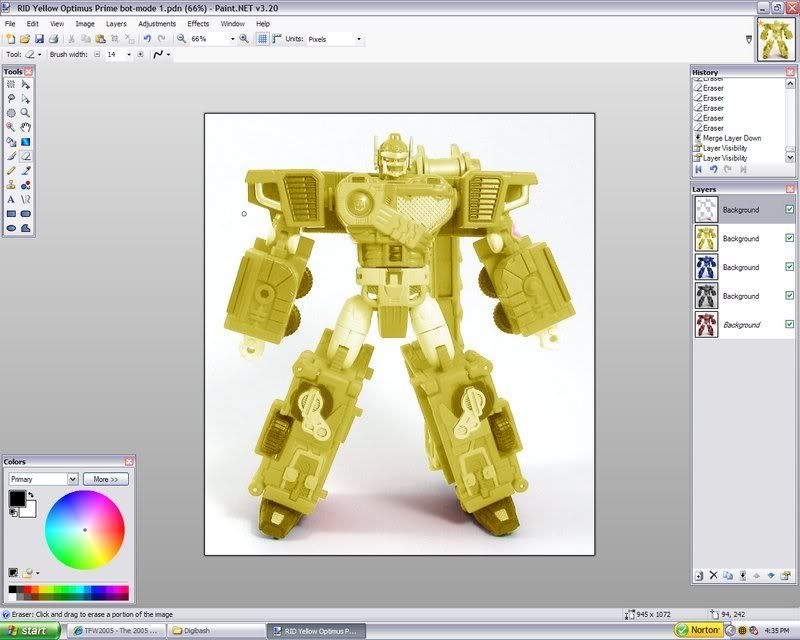 7. The layers should be in order from most used to leas used, kinda like this-
Bakckground color
Main color
Detail color 1
Detail color 2
Detail color 3
Background (un-edited picture)
8. Choosing the main color layer, erase everything on the TF (or whatever you're digibashing) that you don't want to be that color. This should allow the color below it to be shown. Repeat this going down the layers till you get to the background layer (don't edit it).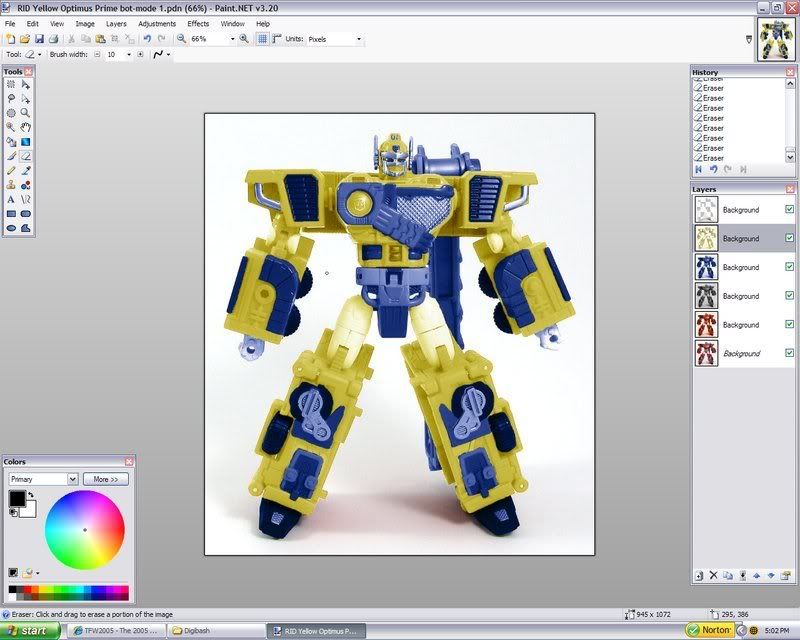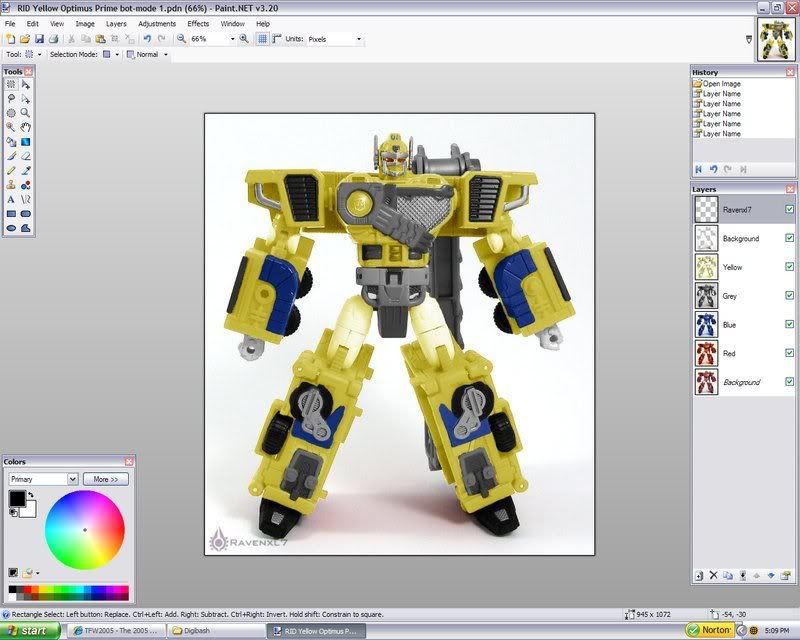 9. If you want to you can add your watermark. Just add an empty layer at the top of the layers group, make your watermark, and adjust it as needed.
10. I recomend that you save it often when you are working on it. That way you can stop whenever you need to. To save it as a .jpg so you can upload it, do the steps in this order-
File
Save As
Save as Type: JPEG
Save
Save Configuration: OK
Save: Flatten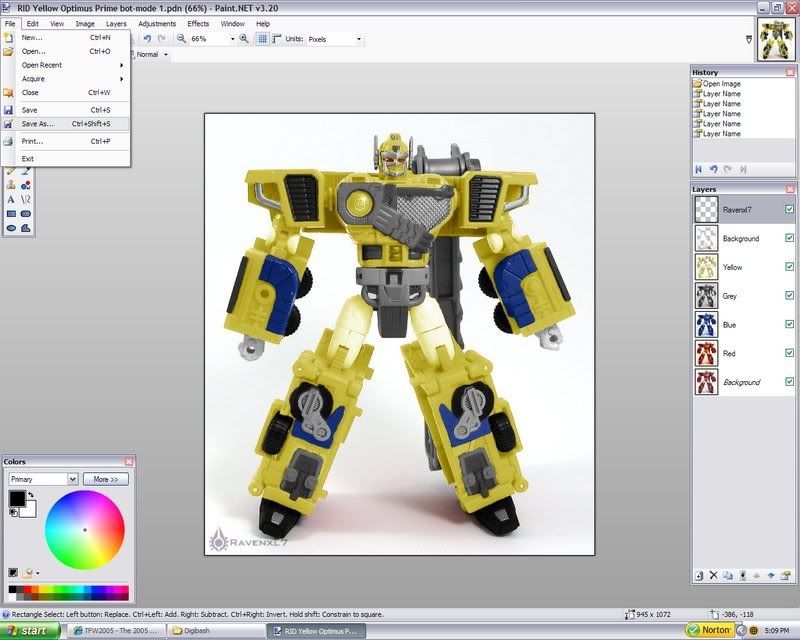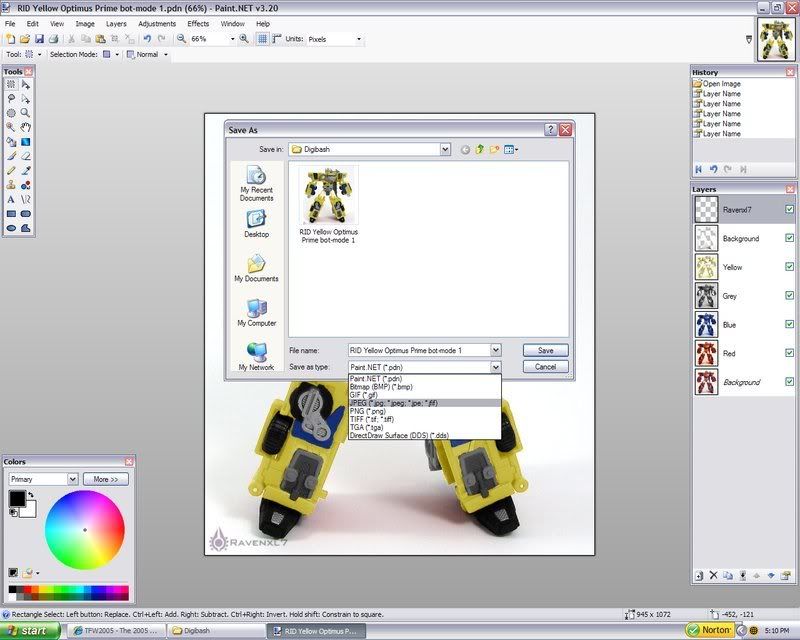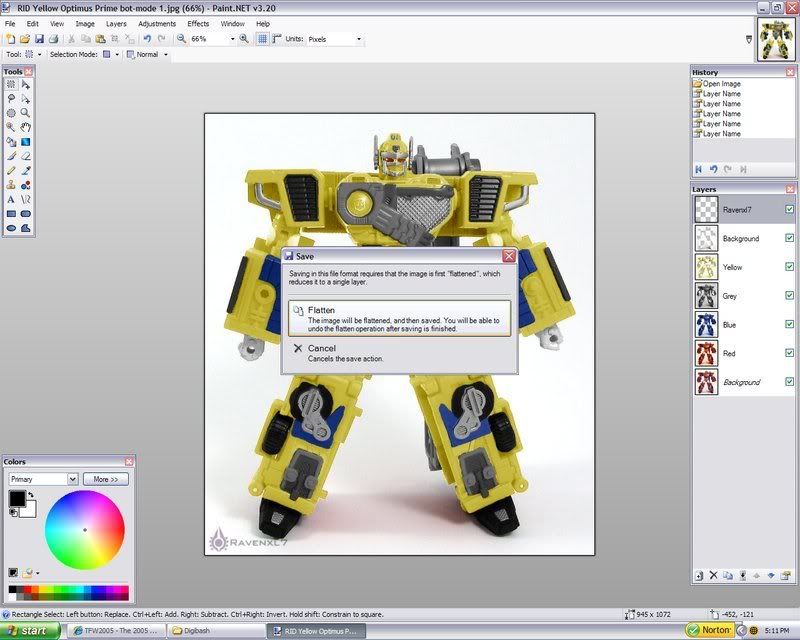 There you go, that's the basics to doing a digibash. There are other ways of doing it, but, that's how I prefer to do it. Thanks for looking, and I hope this helps you.
Quote:
Originally Posted by Soundblaster1
Any tips for the whole "erasing" process? I can do alright until I get to there, then I fail miserably.
Quote:
Originally Posted by Ravenxl7
It's actualy very simple. Pick the layer you're going to erase parts of, zoom-in on the part you're going to erase, pick the erase tool, size it to your needs, and start erasing.
Quote:
Originally Posted by Soundblaster1
There's a zoom feature? That would help a lot.
Quote:
Originally Posted by Ravenxl7
Yeah, it's the little magnifying glass that's 3 spots up from the eraser tool. The only annoying thing, is that the zoom feature in this works somewhat differently than it does in photoshop, so it took me a while to get used to the difference, as I had used photoshop for almost 2 years by time I got this program for my home computer. The cool think though, like the photoshop tool, you can zoom in around an object easily by clicking and dragging a box around it with the zoom tool. It instantly zooms into that specific area.