This is to show exactly how I removed the wings and made it so they snap back on. Now that I found another Classics Megs, here it is.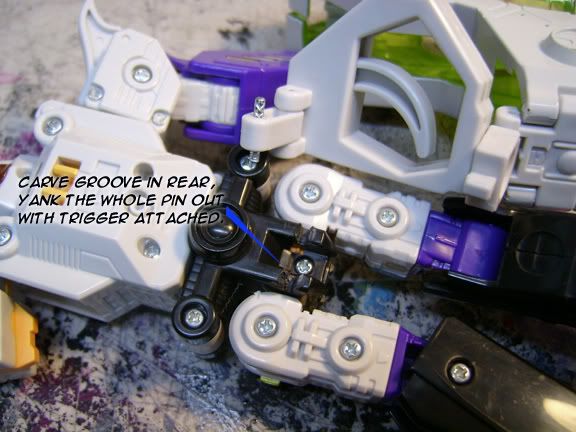 Super-simple, carve the groove down to the metal pin, yank the whole trigger/wing assembly out as one big piece, pin still attached. Now you can snap the pin back in the groove when it's gun-mode time and it'll stay. Rar!
Quote:
Originally Posted by JinSaotome
The trigger can always be pulled free without the pin. Then I came upon the 'impossible to remove pin' and it forced me to come up with a whole new approach, lol! Necessity is the mother of invention as they say.
Quote:
Originally Posted by BustaJesse
I did it the same way Jin, I couldn't get that pin out for the life of me.
Quote:
Originally Posted by Ramrider
Ditto. Even my trusty-thrusty patent-pending PinDriver (old knackered precision screwdriver) couldn't shift that bugger. I basically did the same thing and went at the connecting shaft with a cutting disc and file. The wings and legs hold it place in gun mode, and the back clip does the job a treat in robot mode.
Quote:
Originally Posted by Ramrider
It's actually not a big deal, and doesn't hurt the fig in the slightest. Literally the only part you're damaging is the one strut that connects the trigger to the groin. Once that's out you can take the wings off and put them on, and it looks just as good either way.