For a few months now I create custom boxes.One month ago I designed a Japanese Dirge box
for a Dutch forummember who collects Japanese MIBs. Dirge is the only seeker that never came
out in a Japanese box. In this thread I will show you a step by step guide on how to create
a nice custom box.
The finished box with Starscream reissue as a reference: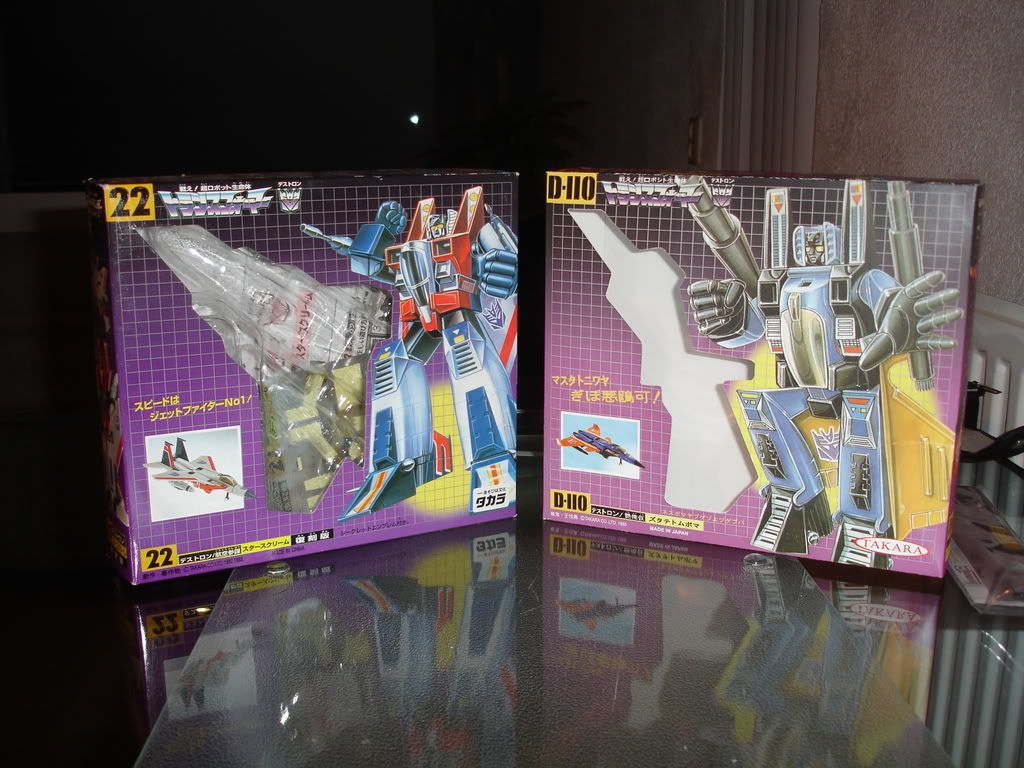 1. Designing in Photoshop.
This is basicly most of the work. The Dirge box took me about 25-30 hours.
This mostly had to do with searching all the Japanese characters out of thousands of characters.
If you can handle photoshop a little, it will take about ten hours to create a box. It's basicly 80% cutting and pasting.
Antoher few tips:
- In a new file, put your settings on 300 dpi, CMYK colour.
- use photos with a resolution as high as possible.
- create every side of the box separatly, after that, paste them together.
- check the size thoroughly.
- Try to make such a size, that it can be printed on a standard size paper (A1,A2 etc.).
- When it's finished, save it as .PDF, every photoshop store can handle that extention when printing the box.
I'll try to create a step by step tutorial on creating a box in photoshop in the future.
2. Printing.
The Dutch forummember, who requested the box, printed out the designs at a customer of his work..
I still have to find out what kind of paper it is, but it's kinda posterlike paper,
just in between matte and glossy.I think the local printshop can help you out on that.
3. Folding the box.
Things you need:
1. hobbyknife, a qualitively good one, I use Scandia.
2. scissors
3. gluespray
4. a metal ruler
5. glue
6. an overheadsheet, for the window (both side glossy)
7. white cardboard
8. disposable nail files
Spray the cardboard with the gluespray and glue the print on the cardboard.
After that push the print on the cardboard to evade bumps.
Let it dry.
Cut away all the non used cardboard. Then slice out the print with the use of the metal ruler.
Make sure you replace your cutting blade a lot!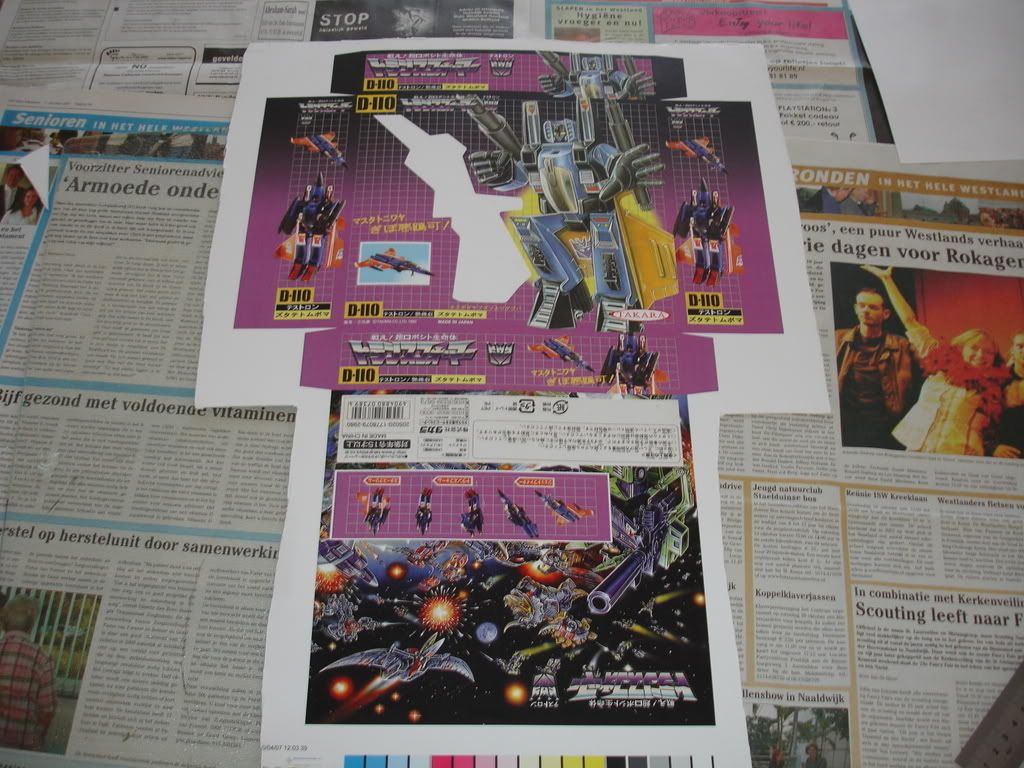 Some edges we cut later on or is going to be used for glueing.
Now comes the hard part, cutting the inner shape.
This is a tough job, one flase move and it's too late.
Try to slice the straight parts with the ruler and the bendings
just by hand. TAKE YOUR TIME!!
After that, you can file the edges with the nailfile. This way the edge will get
nice and tight.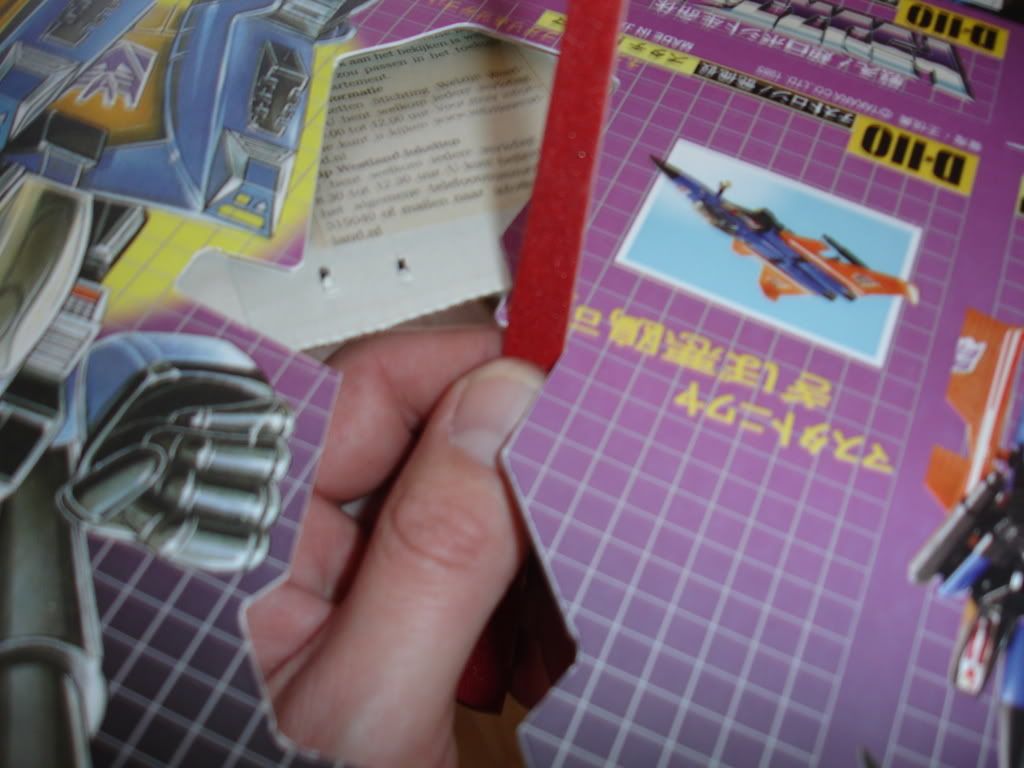 The current progress:
Second part soon!!!!
Any questions, just pm me.
Quote:
Originally Posted by
getoninja
But I got one question, so any print store will print any size I want, as long its PDF file?
Quote:
Originally Posted by joopsta
Most copyshops use standard intl size paper, like A4,A3 etc. When you are going to make a custom box, it's best to keep that sizes in mind. Printing out a paper that's not a standard size (eg. when you've made a box that just a little bigger than A2) will always cost a lot more. I'm making a custom reflector box now and when it's finished it's just al little smaller than A1. Printing it will cost me about $20 then, so that's reasonable.
When you created a box in photoshop (.PSD extension), you can save the file as .PDF format. That way the size and quality won't change and any copyshop can open it and print it for you.
Quote:
Originally Posted by superquad7
Did the copy shop you went to for printing raise any issues about copyrights/trademarks in regards to using their services for those properties?
Quote:
Originally Posted by
joopsta
Haha, no, I don't think any shop would do that. They don't even know what a transformer is. And the boxes are custom. In other words, my own creations. And when I print something, it's usually 2 or 3 copies. Not 5000 or so.
Quote:
Originally Posted by superquad7
That depends on the shop. It might be "your" work, but the box art for example is not. You've hit the nail on the head when you said you're not mass producing them. That's one way to get around it. When I had things printed, I MADE SURE I told them that it was only for personal use and not for resale. I don't have the licensing rights to sell Hasbro products they hold the rights to.