ok, with all due respect to sorrow, who was the first I ever saw to use these particular wing designs to make dirge and thrust in this post:
http://www.tfw2005.com/boards/showthread.php?t=132660
, I wanted to make sure people that are interested in doing so aren't scared away, because it's pretty easy.
first of all, I have taken two ramjets (you'll see why that's important later) and the following tools. I also got a g1 thrust for the four wings on ebay for $17.50 shipped. the key there was getting an incomplete one without the landing gear, since that seems to drive the price up.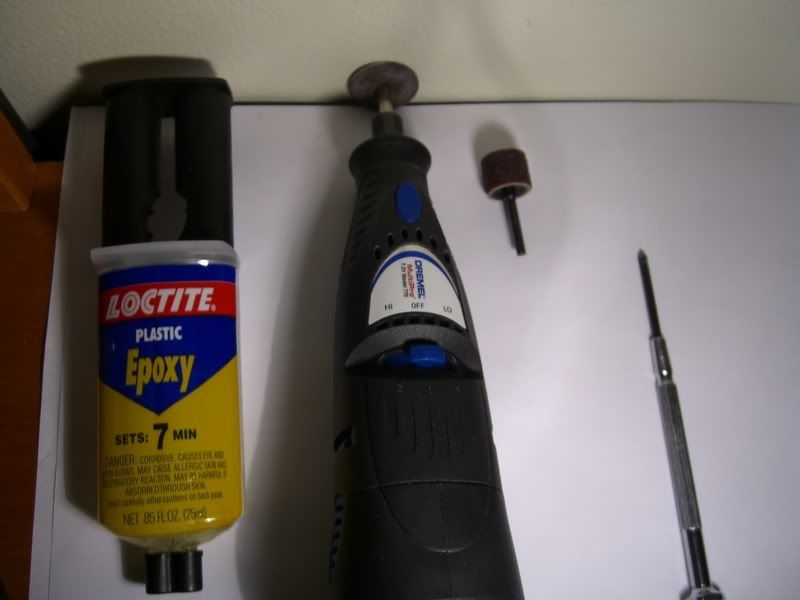 so to start with dirge, since all of that work is now finished, you want to take your dremel with a thin cutting blade attached. try to use it on low speed whenever possible, because high speed will cause the plastic to heat up and melt, and it also allows you to have better control over small movements. first, cut off the grey vertical fins that are attached to the thrusters. cut them towards the base, but you can leave some plastic sticking up on the thrusters, which can be sanded off with the other dremel attachment I pictured.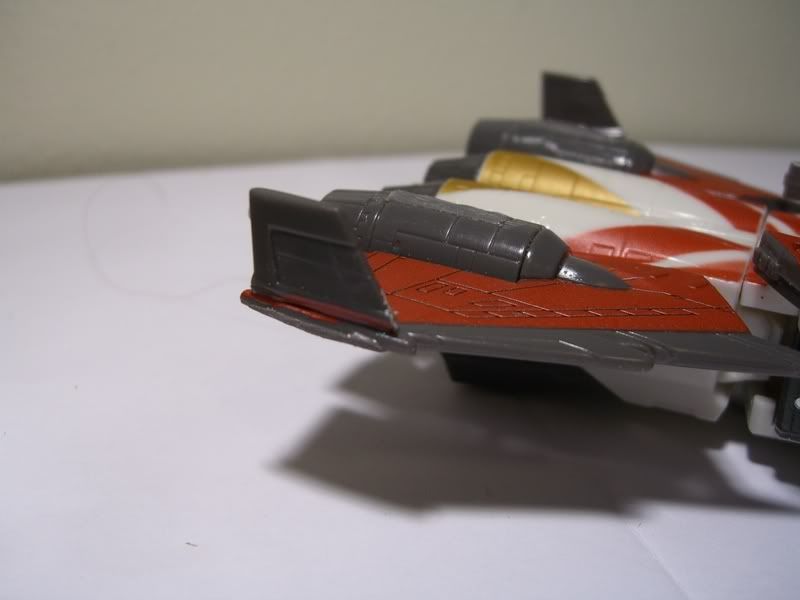 these fins will then be cut in half along the line that is molded into the plastic. look closer to see where. you will have to be doing some more work with this guy later to get it to sit in the front position where it will remain, but for now, well move on to the front wings of the mold.
next, take the front wings and flip them up a bit so you have more room to work with them, and get your sanding bit ready. you need to look at this wing from the interior side, and you'll see there's a seam in the plastic halfway through. you need to sand away part of the top half of this wing to get the one you have already made from the tailfin to attach. hold your cut tailfin to the front of this front wing, and use something sharp to scratch a line in the paint to see how far back you need to sand. it's about 3/4 of an inch back from the tip. so get sanding at a low speed to remove this section of the front wing. you're basically making a platform that the tailfin will rest on. this is really the only difficult part of this figure, because you want to make this "platform" as flat as possible.
now that that's done, you want to take your tailfin and again, sand away the bottom half of it so that when it sits on the "platform" you just made in the front wings it is pretty even with the top of the wing.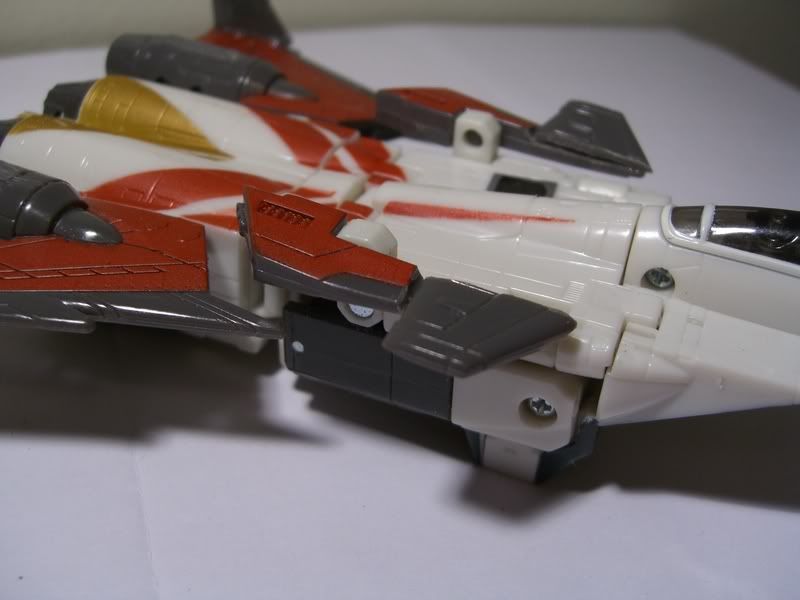 now that the fronts are done, you've now got to get to work on the small vertical rear wing tips with your cutting blade. this is where it comes in handy to have two ramjets as your base figures. as you have probably noticed by now, as you're cutting through the plastic, you make it a bit smaller because of the plastic that gets turned into powder by your blade. since you're going to be cutting off a fin that's small to begin with, you can't really afford to lose any plastic.
so with this ramjet that you've been working on, you're going to simply hack off the downward pointing fins and discard them. you want to cut them off at their base in such a way as to leave all of the flat of the large wing intact. again, sand the area you cut at to make it all pretty-like.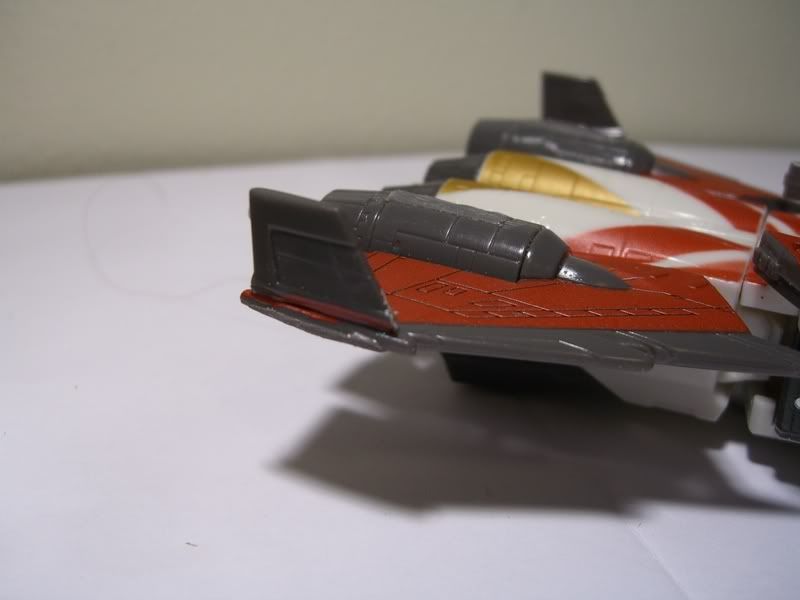 now you're going to take your other ramjet (the one that will become thrust later) and cut off the same little fins, but this time cutting to preserve all of the plastic of the fins by cutting deeper into the main wing, which will be discarded later, since you won't need it for thrust. once this is sanded nice and flat, your wing pieces should be all done, and now it's just time to get to the epoxy!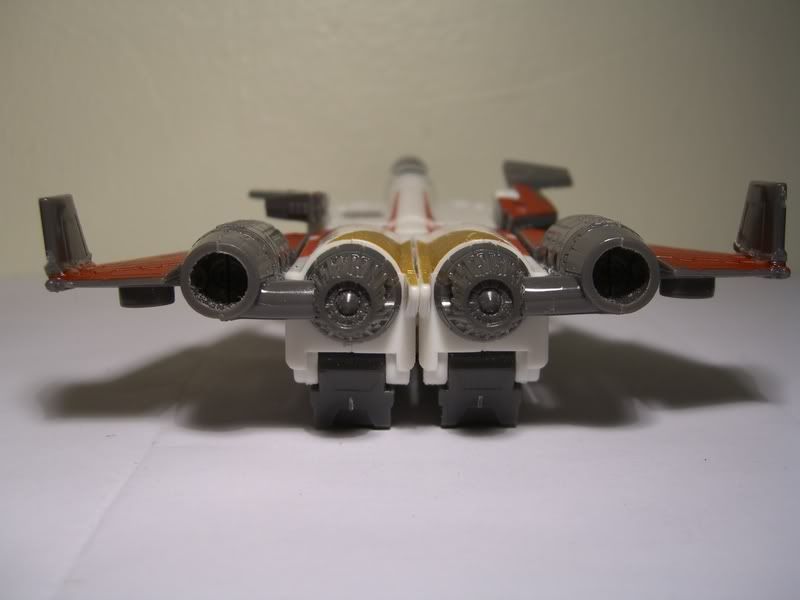 I used this plastic gel because it's a lot less runny than other epoxys I've used before, and since it doesn't set instantaneously like super glue, you can fiddle with the parts to get them just the way you like. it's very important with the front wings to not put glue on them until you're certain that they are sanded down satisfactorily and fit together nicely. epoxy the fronts first, because they're pretty solid, and the rear fins are quite fussy, since they're vertical and don't have anything to support them while the glue dries.
I hope this helps a lot of people. now I'm off to fit the front thrust wings, and then I'll update later with the pics of that!