Nowhere near done yet, but I thought I'd throw this up here. Trying to get 2-Pack's truck mode to look like....anything.
The grill extends and retracts with the black stick that used to make Prime spin like a top.
The bumper is moved forward permanently. The extra truck bits are attached to the bumper.
The fenders have been modded to pull in and out.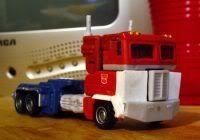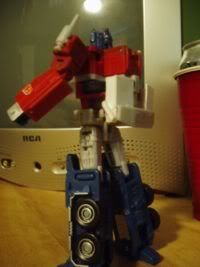 Here's a picture of the underside. You can see where I've cut out bits of plastic on both the red fenders and the gray center piece by comparing it with your un-modded Prime: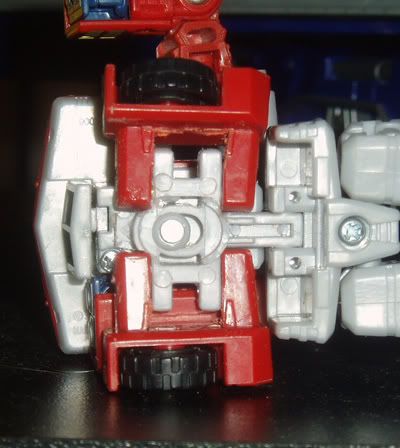 Drill a second hole for the fender pin to lock into closer to the center of the gray plastic. Dig a thin slot between the original hole and the new hole: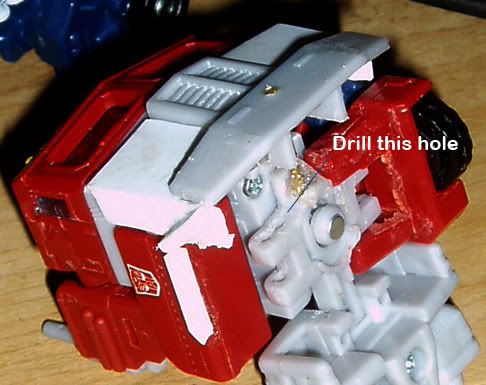 Instead of using a pin that goes all the way accross the fender like the original, just put small nubs back in. These nubs will "lock" into the large holes in the gray central piece, and still be able to slide from hole to hole through the slot you cut: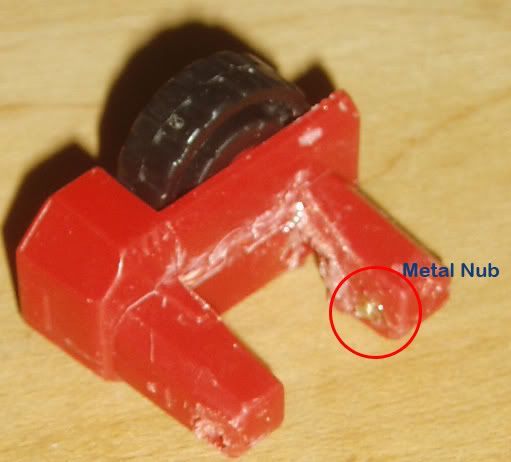 And as a bonus, here's the grill mechanism in action. Notice the notch I cut towards the back so the grill could lock into place for truck mode: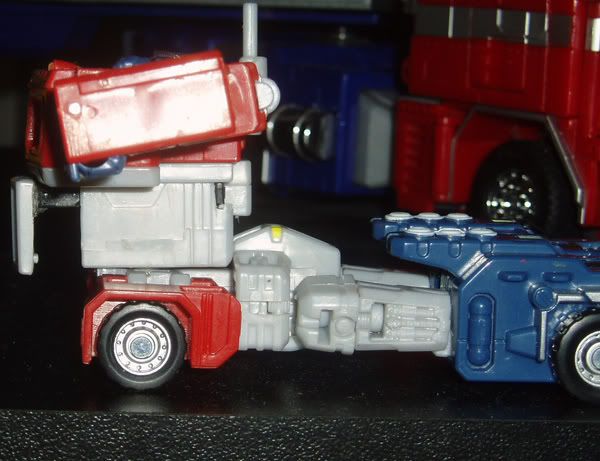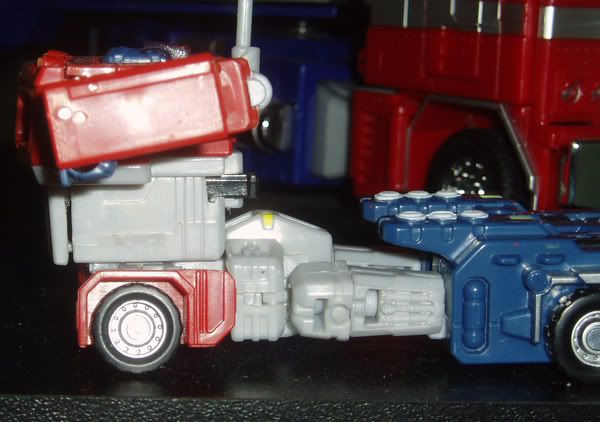 Small update... Dude needed bigger tires. Back tires to come soon.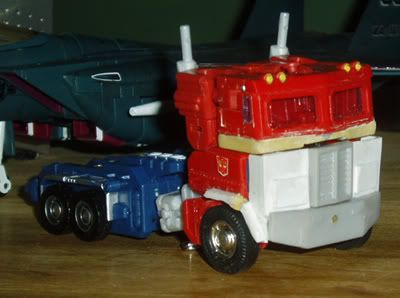 Quote:
Originally Posted by superquad7
I really hope you do something with that head (most notably the deer-in-headlights eyes). That and the legs really turned me off on that toy. You've managed to solve one of those problems and then some. I can't wait to see this project finished! Keep up the great work!
. . . and I'm assuming you'll have another all-star photo shoot to show him off too?
Well, I pulled the light-piped clear plastic out of the head and painted the eyes to be smaller. I think it helps. When I do the final photos of the finished thing you'll be able to see it better.
As for the legs... Yeah, this bad boy's not done until they can collapse. Right now I'm weighing the pro's and con's of swaping in Classics Starscream's thighs or just building a sliding mechanism out of what's already there.
From Gigatronsama:
With a bit of effort I was able to replicate that grill mod. I'ts pretty simple.
Unscrew the only two screws in the figure that hold the gearbox shut. Open it up, strip out all the stuff in there, re-glue the little black stick to the back of the grill, cut off the tab that locks the grill in place and voila. It only took abut 10 minutes. Would have taken less if this lousy glue would take to the plastic. (Future glue SUCKS)
Now mabey some means of covering up the head.